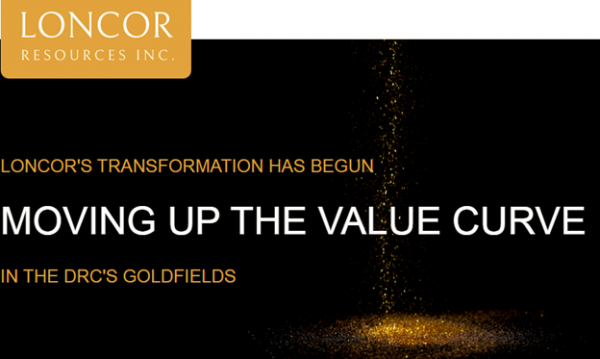 3 Golden Reasons Loncor Is A Top Small Cap Gold Explorer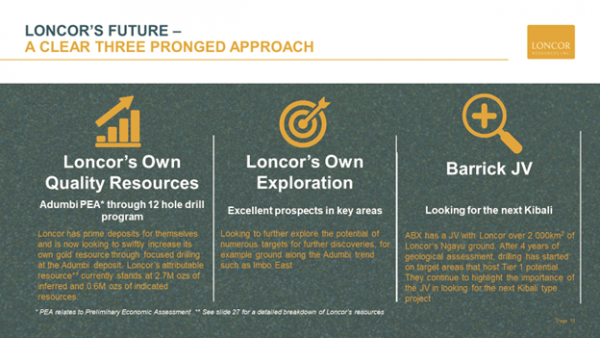 Loncor Resources (LN: TSX / OTCQX: LONCF /) is a proven gold explorer focused 100% on Africa, a continent where the team has previously discovered over 27 million ounces of resources…. with plans to find even more.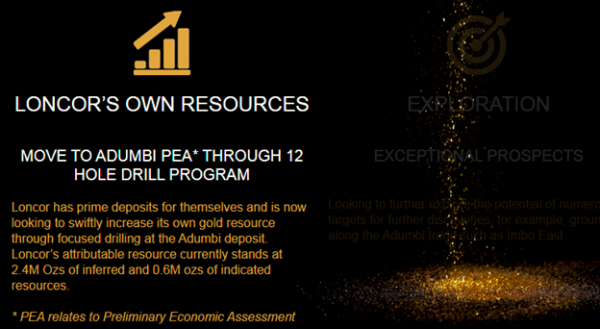 The Company controls its flagship Imbo Project in the Democratic Republic of the Congo, where it has already has 2.5 million ounces of inferred resources with 2.19M ozs at the Adumbi deposit alone. Loncor is looking to swiftly increase its gold resource through focused drilling at Adumbi, increasing its ounces toward production.
More than just lip service, Loncor has a billion-dollar gold miners as shareholders that also believe in the Company's vision.
Resolute Mining of Australia has a market capitalization of $1.5 Billion and owns 27% of Loncor
Newmont continues to hold a position in Loncor with 7%
Moreover, Loncor's CEO owns 26% of the Company. Taken all together, it adds up to a great deal of confidence in Loncor Resources, which should provide any current or potential new shareholder with even greater confidence considering the due diligence abilities of these large shareholders.
WAIT …… 1 MORE MULTI BILLION DOLLAR GOLD COMPANY BEHIND LONCOR … BARRICK GOLD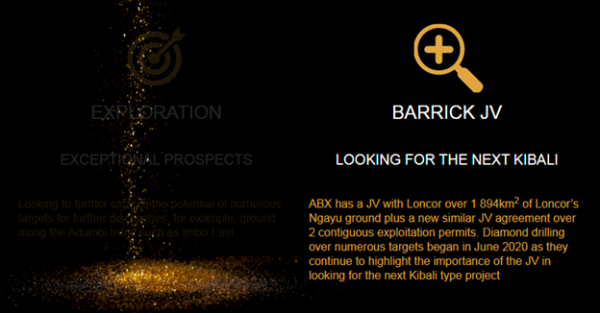 There is another element to the Loncor story that adds tremendous opportunity, a Joint Venture on all of Loncor's remaining land with Barrick Gold, the $53 Billion Company whose mandate is to find "Tier 1 gold deposits" on Loncor's ground. Barrick has commenced drilling on Loncor's land looking for their target of a + 5,0 million ounce gold deposit.
But Barrick is focusing there for a reason.
Barrick operates their outstanding DRC mine – Kibali – in a JV with another multi-billion gold operator, Anglogold Ashanti, plus the Government of the DRC. The mine is situated 220kms from Loncor's Ngayu ground. Kibali represents one of the world's great new gold mines, producing a record breaking 814,027oz in 2019 at "all in sustaining costs" of just US$693/oz. Barrick, who owns a 45% share, has joined other major mining players like Ivanhoe Mines and Glencore in releasing the billions of dollars of potential mineral wealth in the DRC.
Loncor arguably offers the largest direct exposure to the gold potential of the DRC, backed up by individuals who know the DRC well (drill down below). With Barrick moving two rigs in to take a closer look at 6 high priority targets defined by them. You now know why Barrick has a JV with Loncor on their other DRC assets – they are looking for the next Kibali style project and nothing less.
Though Loncor's Imbo project is not part of the Barrick JV it's on the same huge geological belt, has grades similar to Kibali and has more than 2.5 million ounces of inferred gold resources already – with drilling ongoing- Loncor isn't just wishful thinking that much more can possibly be found.
THE DEMOCRATIC REPUBLIC OF THE CONGO
As you may have guessed by now and contrary to layman perceptions, the Democratic Republic of the Congo is a significant player in the world's production of resources, which are the Congo's largest source of export income. An estimated $24 trillion in untapped deposits of raw mineral ores lie beneath the Congo's incredibly vast lands. This is the equivalent to the combined Gross Domestic Product of Europe and the United States. Multi-billion dollar companies such as Tesla, Glencore, Samsung, Ivanhoe Mines, Zijn Mining Group, China Molybdenum Ltd, Barrick Gold and AngloGold Ashanti all have deals or projects in the DRC.

Finally, all junior resource investors know that in order to be successful, companies like Loncor must have a great exploration team with relevant knowledge and area expertise. In this regard, Loncor does not disappoint.
Loncor's team has previously delineated +/-13 million ounces of gold resources in the 20 years many of the individuals have operated in the DRC, with the huge Ngayu Belt now the focus. In Africa, their record is more impressive with key individuals finding closer to 27 million ounces of total resources.
As an example, President Peter Cowley has over 40 years' experience in the minerals industry and a history of major exploration successes in Africa, including the DRC. Among his major accomplishments, from 2004 to 2008 he led the exploration at Banro that delineated major gold resources at Twangiza and Namoya, also in the DRC.
Prior to joining Banro, Mr. Cowley was Managing Director of Ashanti Exploration, where he led the exploration team in the discovery and development of the Geita mine in Tanzania, a resource of over 17M ozs.
Prior to Ashanti, he was Technical Director of Cluff Resources which discovered and developed mines in Zimbabwe, Ghana and Tanzania.
Mr Cowley has found and knows where to find ounces in Africa, especially in the DRC.
Arnold Kondrat, is the founder and CEO of Loncor Resources with over 30 years' experience in the public markets, primarily in the resource industry. His 25-year history in the Democratic Republic of the Congo has enabled the Company to secure a number of highly prospective gold assets. Arnold has repeatedly supported the company, often through difficult times, and now owns 26% of Loncor.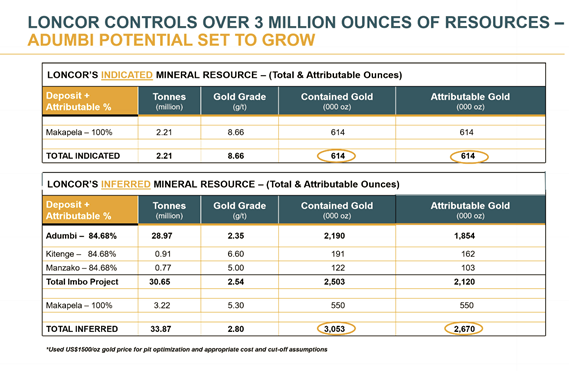 THE 3 REASONS WHY LONCOR IS A WORLD CLASS, SMALL CAP GOLD EXPLORER:-
1.Loncor's Imbo Project looks like a potential company maker with 2.5 million ounces already outlined

Loncor is independently on its way to creating a world class gold project at Imbo. They control 84.68% of all gold discovered at Imbo and have a fully funded 12-hole drill program planned over the next 9 months where they believe they can readily add ounces to the 2.5 million inferred resource outlined to date. The Adumbi Deposit remains the focus and has 2.19M ounces and its sister deposits – Kitenge and Manzako – account for approximately 300,000 more ounces.
"Loncor continues to consolidate its dominant position in the Ngayu Goldbelt. Over the next twelve months we intend to drill the Adumbi gold deposit and several other highly prospective areas of the Imbo license" (Arnold Kondrat, March 5 2020)
Enterprise Value to Ounces in the Ground currently approaches US$14/oz
For around US$14 an ounce you can currently buy an "option" on Loncor continuing to succeed in adding ounces through drilling at Adumbi, moving the project closer to the sort of economics displayed at Kibali.
2. Resolute and Barrick Relationships
There isn't a junior resource explorer in the world who wouldn't want to have just 1 supportive relationship with one of the major miners – and Loncor has 3:
Resolute Mining is a gold producer with multiple long life, high margin assets and a strong platform for growth and consolidation within Africa.  Resolute  sees its 2020 gold production at 500,000 oz.  They own 27% of Loncor's stock
Newmont continues to hold a 7% position in Loncor
Barrick Gold is a $53 Billion dollar major whose JV with Loncor in the DRC speaks for itself as they search for Kibali II.
If a new investor was looking for 3rd party validation to justify investing in a small-cap resources company, it simply doesn't get much better than having these mining thoroughbreds supporting Loncor.
3. Management Expertise and Ownership
If you are looking for gold follow the people who have already found it. The old adage is true, and management is one of the best indicators of how far a company can exceed expectations. Loncor management has delineated 13 million ounces previously in the DRC and is looking to add more through drilling in 2020.
Add in the fact that key management own 26% of Loncor stock and it is clear they have put their money where their mouth is long before asking outside investors to do the same.
CONCLUSION – With gold prices trending aggressively higher, investors will be hard pressed to find a better company than Loncor Resources to participate in a bull market for gold.
Loncor is in a position few juniors could ever hope to achieve, with the combination of their own +3-million-ounce projects, a JV with Barrick and shareholders that include other major miners.
Click Here To Discover More Information About Why Loncor Resources Is The Next Small Cap Gold Discovery
Tags: #Assay, #Barrick, #Congo, #Discovery, #DRC, #Drilling, #Gold, #leadership