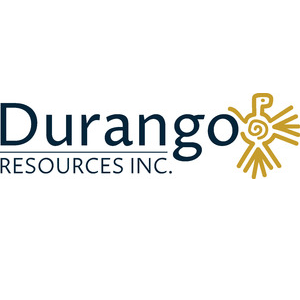 DGO: TSXV
Durango Resources (TSX.V-DGO) (Frankfurt-86A1) (OTCQB -ATOXF) is an exploration company planning on making a gold discovery in the Windfall Lake gold camp of Quebec.
Durango's land in the Camp demonstrates a high probability of having gold in the ground. The Trove and East Barry properties have seen multiple methods of exploration helping to guide and pinpoint areas that require drilling for gold. Durango has been guided expertly by both management, its technical team and its peers for the discoveries previously made in the Windfall camp. Recent step out drilling expanded high grade gold at Windfall, with 2.4m of 391g/t gold Windfall.
Osisko dominates the land position and are responsible for the discovery of the Windfall deposit, which has expanded into a resource of 1.2 million ounces of high-grade gold and helped to create a new gold camp in Canada. Their deposit is world-class scale and Osisko shows no sign of slowing down exploration anywhere on their sizeable land position as they continue with 19 drills operating in 2020 and surround Durango with over 2.8 million ounces of gold.
Durango may be in the shadows of a larger entity, but that doesn't make their properties any less valuable. Durango doesn't need to be bigger to be better and Trove and East Barry properties show high probability of having gold in multiple areas. Trove only needs to be drilled to determine how much.
Durango is backed by a regionally experienced technical staff that has made their own discoveries in the Windfall camp, and management that have purposely supported the company for this strategic land to have its moment. Durango aims to prove that bigger isn't always better, and that small cap exploration companies can make market grabbing discoveries. 2020 is the year Durango makes a discovery.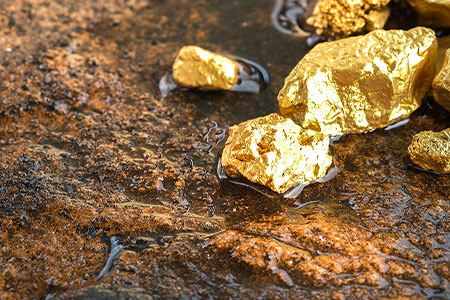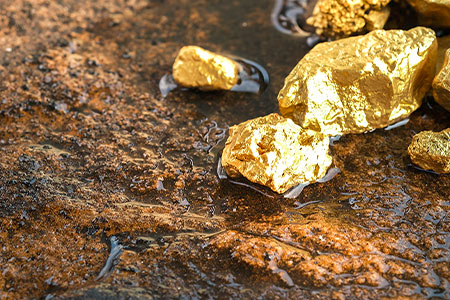 Here are the 3 things you need to know
The Trove Property is Drill Ready.
100% Owned Trove property located in Windfall Lake, Quebec has been systematically explored in preparation of a drill program. There have been many technical studies completed on the property and they all point in the same direction, that Trove is drill ready. There are currently 15 high-priority drill locations already prepared. Surrounded by Osisko Mining Inc. (TSX: OSK) Trove has excellent exploration potential, especially as Osisko drilled along the Trove border in 5 separate areas in 2018, encountering mineralization in all and having one hole in particular that stood out with 5 grams of gold in the sample. The Trove property is strategically located directly south of the Retriever and Black Dog projects of Osisko and hosts two major gold bearing faults. Osisko has identified gold on multiple sides of the Trove property through recent drilling.
Durango's exploration team has completed its initial 2020 reconnaissance program and has prepared Trove for the 2020 summer drill program. Durango has identified 15 drill targets in 4 different zones on the Trove Property to test 3 separate studies all pointing toward a potential gold discovery.
Durango Resources may not have the size to match Osisko, they do however have the exploration potential to compete in the discovery department with Trove and East Barry, that border Osisko property boundaries.
2. The Windfall Camp is Not Done Making Discoveries
Quebec is ranked 4th best jurisdiction for mining investment in the world (Fraser Institute, 2019), due largely to the exploration success Osisko, and other companies have contributed to the area. Durango wholly owns its Trove project, surrounded by gold deposits hosting over 2.8M ounces of gold and is strategically located directly south of the Retriever and Black Dog projects. The Trove property hosts two major gold bearing faults which is prime real estate for holding economic gold deposits.
This from a 2017 Northern Miner Article describing mineralization in the area:
…."While we expect the Windfall deposit itself to double in size from the 1.6 million oz. already defined, it is the adjacent targets, including Fox, Lynx and Black Dog, that have caught our attention, suggesting the Urban-Barry project area could represent a district-scale play in Quebec," Carew added.
June 2017: https://www.northernminer.com/news/osisko-mining-banks-big-winnings-windfall/1003786483/
The Windfall Camp is not done making gold discoveries.
3. Technical Committee and Management Support
You can't make a discovery without people and know how to do it. The Windfall Camp has proven there is tremendous amounts of gold buried in the ground, with lots more to be found. Gold, however, doesn't find itself. For that you need the people and know how to understand where to start looking before committing hard earned shareholder capital on expensive, sometimes, failed drill campaigns.
This is where Dale Ginn gets to help guide Durango. An experienced mining executive and geologist for over 30 years participated in numerous gold and base metal discoveries, many of which are in production today, including the Gladiator Deposit by Bonterra in the Windfall Camp. Dale has the prerequisite experience to coordinate and define an exploration program leading up to a discovery. He has done it before and may accomplish again with Durango.
Lastly, shareholders are thankful to have Marcy Kiesman at the helm of Durango. Ms. Kiesman has routinely supported the company and owns close to 16% of the company. Ms. Kiesman is one of the leading ladies in the exploration business today and has put together an all-female management team positioning Durango toward Discovery.
Click Here To Discover Why Durango Resources Is The Next Gold Discovery In Windfall Lake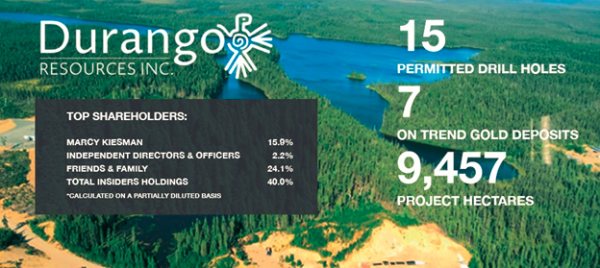 Durango Resources is an advertising client of AGORA Internet Relations Corp.
Tags: #BTR, #DGO, #Drilling, #Gold, #OSK, #Quebec, #silver, Abitibi, EastBarry, Exploration, Osisko, Windfall Lake