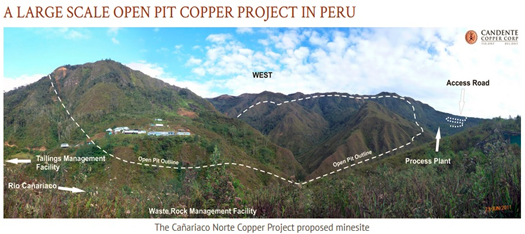 The 4 Reasons Goldman Sachs Believes Candente Copper is a World Class Company
Candente Copper (TSX: DNT, BVL: DNT) owns 100% of a copper deposit in Peru and has big plans to become a miner.
Candente owns a large, economic, copper ore body in Peru waiting to be mined. Cañariaco Norte is a 100% owned feasibility-stage porphyry copper deposit.
Simply put, it is a mountainous rock body that holds 7.5 billion pounds of copper and has had multiple scientific studies propelling it along the way toward production. Strengthened by Goldman Sachs belief it is one of the top 80 copper deposits yet to be exploited and strategically guided by Australian Iron Ore giant Fortescue's 19% inside ownership, Candente has the lowest quartile production costs that make it an intriguing project today and a must have for tomorrow.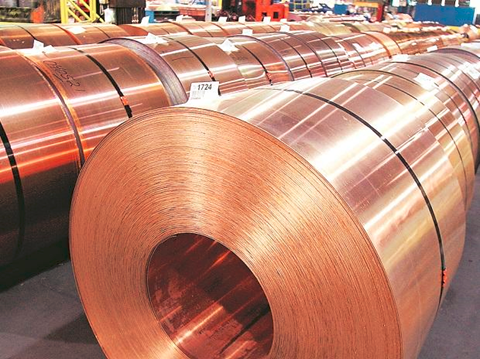 Reasons Why Candente Copper is A Top Small Cap Copper Company
1. Goldman Sachs has Canariacao Norte listed as one of the top 80 projects waiting to be developed worldwide and is top 42 in South America. Mining projects take a long time to be developed due to the strict standards required to prove metal content in the ground, which Candente has proven it has tremendous amounts of.
A single, contiguous, open-pit mineable deposit of 7.5B pounds Measured and Indicated and can be mined for 22 years once in production speaks to the stability of the project
2. Supported Strategically by Fortesque's 19.9% Ownership
Fortesque is recognized as a global leader in the mining industry. Fortesque holds 19% Candente and became involved to advance Canariaco further into development. Fortesque committed 1$Million in January 2020 with an eye toward production and is considered a strategic investor, which means they have a long-term timeline for joint exploitation of the asset.
Fortescue is one of the largest global iron ore producers, recognized for its culture, innovation and industry-leading development of world class infrastructure and mining assets in Western Australia. This is truly a partnership which seeks to equally progress Canariaco into development and Candente into production status. The accepted odds for a discovery to find its way into production is about 1 in 1000, and speaks to the sheer difficulty of the exercise.
Candente is close to the finish line and Fortesque is there for the final push.
3. Canariaco is in the lowest quartile of production costs
Once in production Canariaco is in the lowest quartile of production costs for projects waiting to be developed Operating costs of US$0.988 per pound of copper
Canariaco has 7.5Billion pounds of copper measured and indicated capable of generating annual production of 262,000,000lbs of copper, 39,000 oz gold & 911,000 oz silver over initial mine life of 22 yrs(@ 95,000 tpd). A long stable mine life is what attracts quality investors like Fortesque.
Canariaco is a stable, long term investment once it is producing because its output is consistent every year. The risk has been removed from the project.
4. Canariaco is the 1st of 3 projects all in the same area waiting to be discovered.
Candente has the opportunity to make further discoveries through Canariaco South and Quebrada Verde, both within a 5km trend that shares infrastructure. Management believes Canariaco Sur is a mineable deposit and will add tremendous support to shareholders in the future. Quebrada Verde demonstrates the same minerology and potential as both Norte and Sur which and requires future exploitation
Each of these projects will benefit greatly from Canariaco's development as it will make development even cheaper than Canariaco Norte due to the infrastructure that will be in place, possible pushing Canariaco's future overall costs even lower.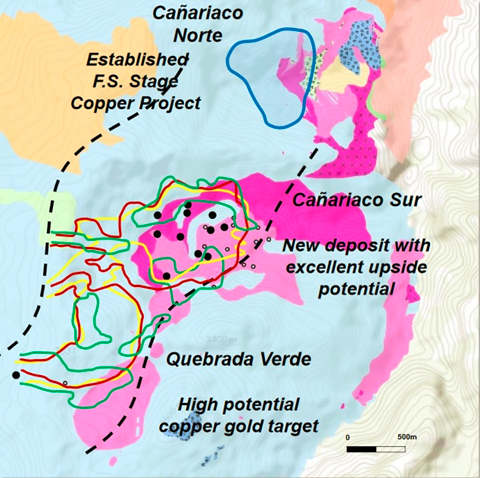 Click Here To Discover Why Candente Copper is Tomorrow's Copper Deposit to Be Owned Today

Tags: #Canariaco, #copper, #Fortesque, #Freeport, #Gold, #GoldmanSachs, #mining, #peru