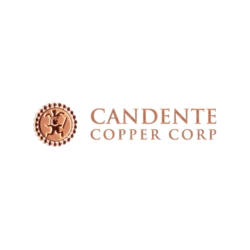 Candente Copper Corp. (TSX:DNT, BVL:DNT) ("Candente Copper", "Company") is pleased to announce that it has engaged Ausenco Engineering Canada Inc. ("Ausenco") to conduct Desk Top Studies to identify and define a smaller, higher grade, start up option for Cañariaco with a smaller initial capital expenditure ("CapEx") and accelerated payback period. This study is expected to take 4 to 6 weeks to complete.
Assuming favourable results from the Desk Top Studies the Company would look to move into a Preliminary Economic Assessment ("PEA") on the Revised Project Concept which would be expected to take approximately 4 months to complete. The Company is fully funded for both levels of studies. (for more details please see News Release No. 126 dated February 22nd, 2021).
Ausenco is globally recognised for providing consulting, project delivery, and asset operations services to the international mining sector including high performance copper processing and infrastructure projects. Ausenco has a 30-year track record in delivering specialized end-to-end solutions which are proven to lower capital and operating costs, reduce construction time and improve plant efficiencies.
Ausenco's project experience ranges from small conceptual studies for new developments through to the construction of large scale minerals processing facilities. In Peru, Ausenco's experience includes providing Engineering, Procurement and Construction Management services to design, construct, and commission the 25 million tonnes per year concentrator and associated infrastructure for the Constancia Copper Molybdenum Project owned by Hudbay.
Furthermore, Ausenco is currently in the final stages of providing Engineering, Procurement and Construction Management services to design, construct, and commission two processing facilities that will process 6 million tonnes per year of copper sulfide ore and 12 million tonnes per year of oxide ore via solvent extraction and oxide leaching facility (along with associated infrastructure) for the Mina Justa project owned by Marcobre S.A.C. (controlled by Minsur S.A.).
Recently, Mantos Copper Holding has engaged Ausenco for the engineering, procurement and construction (EPC) the 30,000 tonne per day copper concentrator plant and related infrastructure at the Mantoverde Development Project in Chile.
Read More: https://agoracom.com/ir/CandenteCopper/forums/discussion/topics/756063-ausenco-engaged-for-desk-top-studies-on-ca-ariaco-norte-higher-grade-project/messages/2305341#message
Tags: #Canariaco, #copper, #Fortesque, #Freeport, #Gold, #GoldmanSachs, #JointVenture, #mining, #peru