Subject to closing a recently announced financing, this release will outline our 2021 objectives including;
NAM intends to engage third party engineering companies to complete the River Valley Palladium Project's first Prefeasibility Study before the end of the first quarter of 2022.
NAM technical teams are finalizing plans for additional exploration drilling of up to 5,000 metres at the River Valley Project to further delineate the northernmost mineralized zones, expand the known mineralization boundaries and for resource classification.
NAM has received notice that a drill permit for its Lithium One Project in southeast Manitoba has been approved and is extending its permit for the Lithium Two Project. A minimum 2,000 metre drill program on the Lithium Two Project is scheduled for the second quarter of this year.
NAM has submitted a second application to the Manitoba Chamber of Commerce's, Mineral Development Fund (MMDF). The Company hopes to co-fund the program with the MMDF to conduct a drone magnetometry survey on its Lithium Two, Lithman West and Cat Lake Lithium projects.
The River Valley Palladium Project is one of North America's largest undeveloped primary Platinum Group Metal (PGM) projects. The Project has excellent infrastructure and is within 100 kilometres of the Sudbury Metallurgical Complex. The Project is 100% owned by New Age Metals.
The spot price of an ounce of palladium, platinum, and rhodium as of March 4, 2021 was $US2,285/oz, $US1,160/oz, and $US26,000/ oz respectively (Kitco, 2021)
New Age Metals Inc. (TSXV:NAM); (OTC:NMTLF); (FSE:P7J.F) Harry Barr, Chairman & CEO, stated; "We are pleased to provide shareholders with a corporate update to detail our planned exploration and development activities for our portfolio of North American green metal projects in 2021."
NAM is focused on advancing River Valley to a Prefeasibility study. This study would be based on completion of metallurgy, hydrogeology, geotechnical surveys, an updated mineral resource estimate, environmental baseline, infill and exploration drilling. Management has received quotes from third party engineering and environmental firms and confirmed a budget for the study. Subject to the completion of the recently announced financing, management plans to initiate this study in the first half of 2021. Our objective is to complete the Prefeasibility study on or before the end of the first quarter of 2022.
NAM's technical team is finalizing a phase one drill program for up to 5,000 metres for the northern portion of the River Valley Project. Next phases of drilling will focus on the Dana North, Dana South, Pine, Banshee, Lismer and Pardo Zones (Figure 1) given their fundamental importance to any potential mining operation at River Valley. The occurrence of surface mineralization in the River Valley Intrusion, drill hole mineralization and geophysical chargeability east of the footwall boundary of the current resource model are all strong indicators of mineralization that could be added to a future resource model. Proposed drill targets are illustrated in Figure 1 below.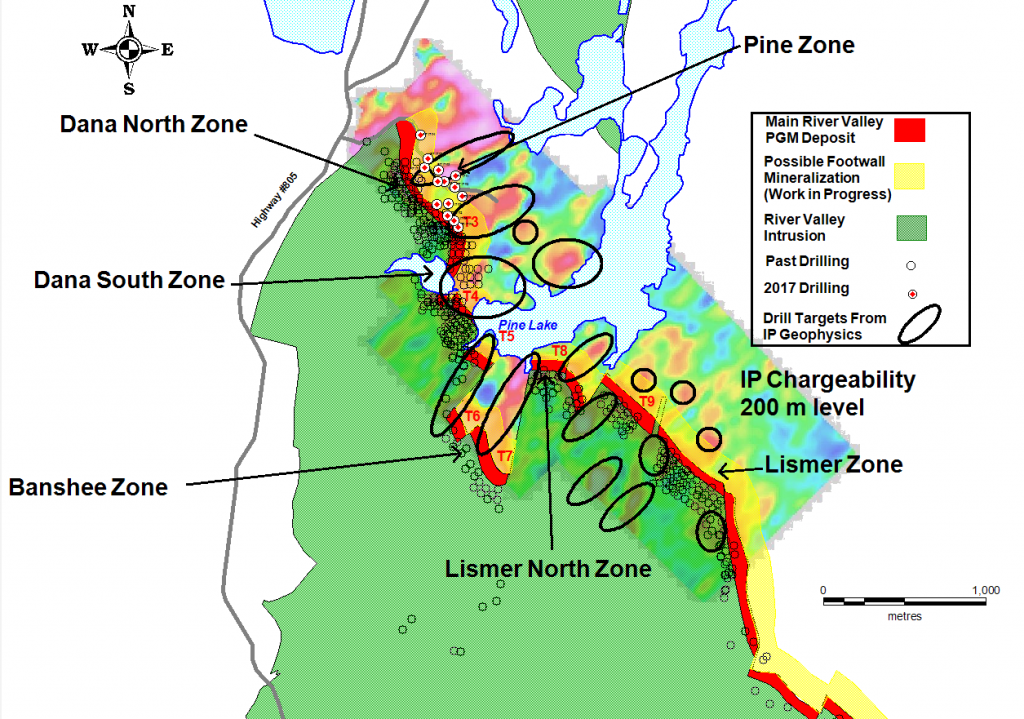 Figure 1: Northern area of the River Valley Project.The image shows numerous IP anomalies similar to Pine Zone extend northeast (externally) and southwest (internally) of the footwall contact of the River Valley Intrusion. Those IP anomalies remain to be drill tested.
Read Morehttps://agoracom.com/ir/NewAgeMetals/forums/discussion/topics/756804-new-age-metals-river-valley-prefeasibility-study-update-and-drilling-on-pgm-and-lithium-divisions-in-2021/messages/2307033#message
Tags: lithium, palladium, PGM, PGM Demand, Pine Zone, rhodium, small cap stocks, stocks, tsx