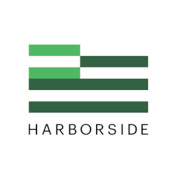 First Commercial Bank Lending Deal of its Kind For a U.S. Cannabis Company
Harborside Inc. ("Harborside" or the "Company") (CSE: HBOR) (OTCQX: HBORF), a California-focused, vertically integrated cannabis enterprise, today announced it has entered into a loan financing arrangement with a commercial federally regulated bank (the "Bank"), in the amount of US$12 million (the "Loan") pursuant to a senior secured revolving credit facility (the "Credit Facility") due March 2024.
Harborside expects to use the majority of the Loan proceeds to support the purchase of the Company's 47-acre production campus later this year, which includes 200,000 sq. ft. of licensed cultivation space, including 155,000 sq. ft. of flower canopy space and 45,000 sq. ft. of nursery space in Salinas, California.
"To the best of our knowledge, Harborside is the first cannabis business in the United States to secure a commercial loan of this kind with a traditional lender," said Tom DiGiovanni, Chief Financial Officer of Harborside. "This deal is the culmination of months of effort and reflects the close working relationship and trust that we have developed with our bank. By significantly lowering our cost of capital, we will be able to better serve our customers, provide high-quality products and invest more heavily throughout California."
"We are thrilled to solidify our relationship with our bank as they help support our efforts and growth throughout the state of California," said Matthew Hawkins, Chairman of Harborside. "This Loan is a significant milestone for the entire U.S. cannabis industry and testament to the work that Harborside has done over the last four quarters in an effort to deliver for our customers and shareholders."
Loan Terms
The Credit Facility has a variable interest rate based on the prime rate charged by the Bank plus a premium, with a floor rate of 5.75%, and will be secured by a first-priority security interest on substantially all of the Company's assets. As consideration for the Credit Facility, the Company has agreed to, among other things: (i) deliver a commercial security agreement, an assignment of deposit account, and a security agreement in respect of cash collateral to the Bank; (ii) make an upfront cash payment based on the principal amount of the Credit Facility to the Bank as an original issue discount; and (iii) issue 4,100 warrants (the "Warrants") to the Bank to purchase multiple voting shares ("MVS") of the Company, which subject to certain conditions, are convertible into subordinate voting shares ("SVS") of the Company at a conversion rate of 100 SVS for each MVS converted. Each Warrant will entitle the Bank to purchase one MVS of the Company at a price of C$369, at any time prior to March 19, 2023.
Tags: American CBD, california cannabis, Cannabis, Canopy Growth Corp, CSE, Greenhouse, Haight-Ashbury