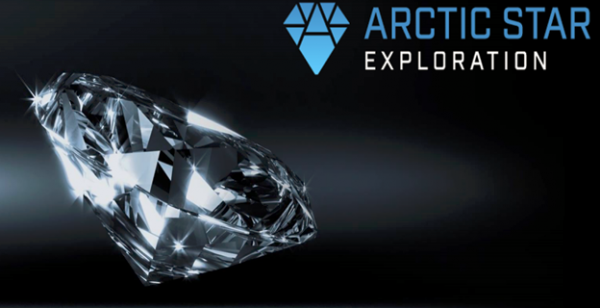 Arctic Star Exploration (ADD:TSXV / ASDZF:OTCQB ) is in the diamond finding business.
Arctic Star has spent years building up to the moment where it could say it made a discovery. Now it can. Four times over, and potentially a whole field of Kimberlites that may contain diamonds. And they have done this by merely looking where no one had considered previously.
The spring 2021 exploration program on the Diagras project, Lac de Gras district, NWT. has yielded 4 Kimberlite discoveries, the latest named Cedar, and it was found like the others; drilling a distinct EM anomaly.
This is the real secret of Arctic Star. They havet tremendous potential to revolutionize the way in which Diamonds are discovered – and become a pioneer in the exploration industry – by finding diamonds in a place where no previous explorer thought to do so. Now more than just a wild theory, Arctic Star has the team to back it up to continue the discovery process.
Here are the 3 things you need to know
1. World Class Diamond Finders
Arctic Star exploration has a highly experienced diamond exploration team previously responsible for numerous world class diamond mine discoveries. The team is led by Buddy Doyle who originally discovered Diavik Mine, Canada's largest diamond mine in terms of carat production. Diavik's exceptional grades make it one of the most valuable diamond mines in the world. Diavik is located in the Northwest Territories of Canada, where Arctic Star has 2 of their diamond properties.
Few geologists have seen 2 projects from discovery through to decision to mine. Mr. Doyle is recognized by his peers in the exploration industry as an authority on diamond exploration and kimberlite geology, and has authored/co-authored numerous papers on these subjects. He was awarded the 2007 Hugo Dummitt Award for excellence in Diamond exploration.
Roy Spencer – If that wasn't enough, the geologist who discovered the multi-billion-dollar Grib Diamond Mine in Russia (see above). which is just 450 KMs away from Arctic Star's project in Finland, has now joined Arctic's Board of Directors! Clearly, the Arctic Star team has the credibility necessary to put forth a new thesis on how to find diamonds.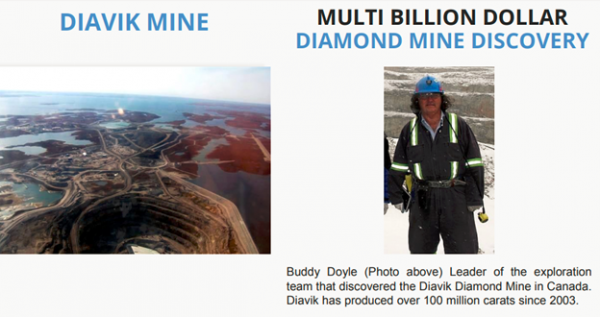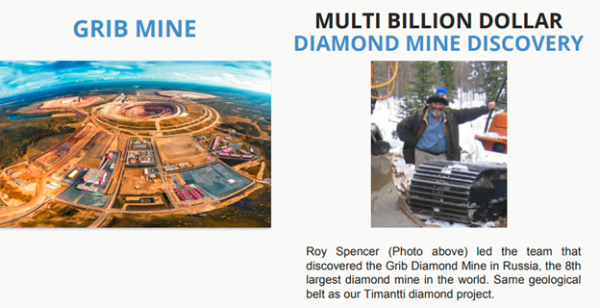 2. Brand New Exploration Model To Find Diamonds
In order to find diamonds, you need to first find Kimberlites. What are Kimberlites? Essentially, they are the rocks which contain diamonds. These kimberlite rocks are found underground in vertical structures known as kimberlite pipes. To illustrate in simple terms, see this basic image of a kimberlite pipe with kimberlite rocks inside of it. Arctic has to date, found 4 of these and plan on testing each kimberlite found for diamonds.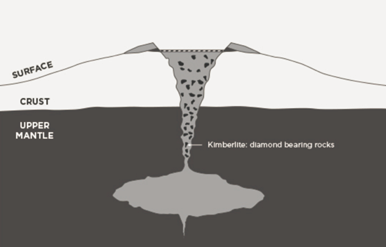 Kimberlite pipes are the biggest source of diamonds today. When exploration companies go looking for kimberlites, the industry standard for finding them is to look for magnetic signatures. This is done by taking a magnetic survey from the air and/or ground. with a device called a magnetometer. Now, most of you won't understand what you are looking at – but here is an example of one of the company's magnetic surveys on its Canadian Diagras property.

The most important thing to understand is that the industry looks for magnetic signatures ….. but Buddy Doyle and the accomplished Arctic Star team have developed a NON MAGNETIC THESIS. They believe they will find economic diamonds by locating Kimberlite that do not have a magnetic signature where previous explores sought not to look. Arctic in a sense is exploring for diamonds the opposite way the industry traditionally does. Arctic acquired property big mining company's dropped, because they looked at them one way. Arctic is looking differently and success is occurring quickly for this small, yet accomplished exploration outfit. There are already multiple drill ready targets in 2 countries using this new way of looking for diamonds; and proven correct in one; Finland will be next to prove without a doubt Arctic HAS discovered a new way of finding diamonds.
Arctic offers multiple opportunities in 2 countries to turn the Diamond Industry on notice with a discovery.
3. Arctic Star Has Two Diamond Projects Ready To Verify Its Non-Magnetic Theory
Arctic has 2 diamond projects on which to verify its theory: Diagras in Northwest Territories of Canada and Timantti in Finland, where early exploration searching for Non-Magnetic signatures has already yielded multiple new diamond targets
A. Diagras is next to Diavik (Canada's largest diamond mine) and has already proven Buddy's Theory correct with 4 kimberlite discoveries to date, with plans to drill more.
B. Timantti in Finland has 3 separate target areas and 6 targets altogether identified through non-magnetic signatures as a means to find diamonds and further excel Buddy's theory, it is the company's goal to drill test in 2021
As Buddy Doyle and the Arctic Star team are proven correct, it will create a new discovery process for understanding how diamonds are brought to surface in areas previous explorers cared not to look. Arctic Star has the potential to create multiple discoveries and copycat companies trying to duplicate their success.
However, there is only one Buddy Doyle and Roy Spencer, which is why Arctic Star is the one Diamond Exploration Company every investor should be aware of.
Click Here To Discover Why Arctic Star Is The Next Diamond Discovery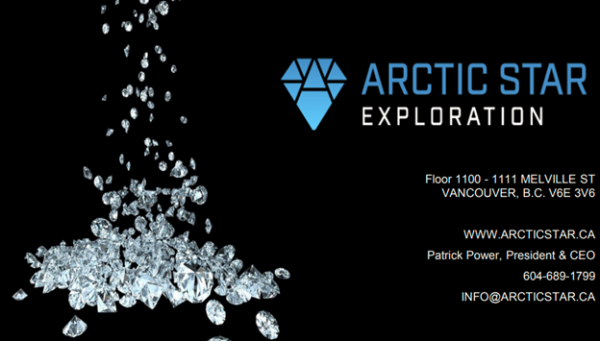 Tags: #ADD, #Market, ArcticStar, BuddyDoyle, Diagras, Diamonds, Diavik, Discovery