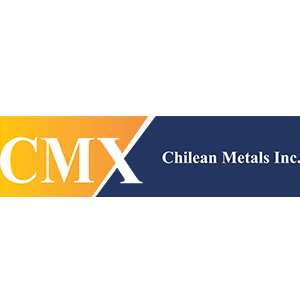 Why Chilean Metals Inc?
CMX:TSXV
Q1: Drill results begin on 3 projects over next 3-4 Q's
Recent acquisitions predominantly share based transactions
Agreement for up to 80% of the NISK property, Chibougamau Quebec

High-grade nickel copper resource at Nisk targets batteries for the EV industry

Golden Ivan Project Acquisition

3 perceived porphyry anomalies identified in Golden Triangle
Ascot Resources is financed to build a mine kilometers from Ivan

Copaquire copper-molybdenum deposit 3-per-cent NSR

Chilean Metals sold its Copaquire property to Teck Resources Limited for $C3,033,500, with CMX retaining a 3% NSR (net smelter return) royalty on production.
Teck developing Copaquire triggers royalty
Royalty a potential near term cash flow if sold

100-% owner of five Projects in the prolific iron-oxide-copper-gold belt of northern Chile

Commenced drilling on the Tierra De Oro Project
Phase 1 of drilling at its Tierra de Oro has returned 716g/t Silver 0.453% Copper over 2m
Key Projects:
Niska: PGM/Battery Metals, Chibougamau Quebec
Measured Resource:
1,255,000T at 1.09% Ni; 0.56% Cu; 0.07% Co; 1.11 g/t Pd and 0.20 g/t Pt
Indicated resource:
783,000T at 1.00% Ni; 0.53% Cu; 0.06% Co; 0.91 g/t Pd and 0.29 g/t Pt
Inferred resource:
1,053,000T at 0.81% Ni; 0.32% Cu; 0.06% Co; 1.06 g/t Pd and 0.50 g/t Pt c
About the NISK Property
The NISK property comprises two discontinuous blocks comprising a total of 90 mineral claims fora total of 4,589.11 ha.
 NISK-1 block comprises 86 mineral claims for a total of 4,375.55ha, while  
the smaller NISK-2 block comprises 4 mineral claims for a total of 312.56 ha. Together these comprise the NISK property comprising a total of 90 mineral claims for a total of 4,589.11 ha,  
The NISK property lies approximately 284 km by road north of the mining town of Chibougamau
45 km east of the Nemiscau airport, in the James Bay territory of Quebec.
NISK Deposit is open at depth and along strike and poised for expansion
Future Work:
Chilean plans to further advance the previously defined historic resources with confirmation drilling, additional infill, and resource definition drilling commencing in Q2.
An updated resource estimate will be prepared upon completion of the additional drilling.
Surface exploration is also contemplated for other prospective targets on the property.
Golden Ivan Project
3 kilometers East of Stewart, BC
Heart of the golden triangle.
Property hosts two known mineral showings:

(Gold Ore and Magee)
Portion of the past-producing Silverado mine,
Mineral showings are described to be Polymetallic veins that contain quantities of silver, lead, zinc, plus/minus gold and plus/minus copper.
Predominantly all share transaction with $1.8m of work commitments

About the Golden Ivan Property
The Golden Ivan property is situated toward the south of British Columbia's prolific 'Golden Triangle
The Golden Ivan property is located approximately 15km south west of the Red Mountain Gold/Silver deposit and 30 km south of the historic Premier Gold mine.
Several mineralized veins of the Porter–Idaho Deposit strike onto the Golden Ivan property's
The property is under explored, however 3 anomalies identified for future exploration
Future Exploration:
The initial phase of exploration is anticipated to include:
systematic geological structural and alteration mapping
geochemical sampling across the property to determine any local areas of anomalism
ground-based geophysics to confirm local structural trends

initial drill program expected in the summer of 2021.
Previous Work:
The property hosts two (2) known mineral showings (Gold Ore, and Magee),and a portion of the past producing Silverado Mine, which was reportedly exploited between 1921 and 1939.
Mineral showings are described to be Polymetallic veins that contain quantities of Silver, Lead, Zinc +/- Gold +/- Copper.
Numerous additional mineral occurrences, showings and past procuring mines are located in the immediate areas surrounding the property, further supporting the presence of widespread mineralization in the areas.
In 2018 Precision Geophysics completed an 88-line kilometre combined magnetic and gamma-ray spectrometry survey on behalf of the vendor Granby Gold Inc. Standard magnetics and radiometric data products were prepared and additional interpolate structural analyses were performed on the collected data.
A number of areas of coincident magnetic and radiometric anomalism have been identified, additionally 'structurally prepared' zones are identified from the structural analysis interpolates.
Such characteristics are widely regarded as favourable indicators of widespread hydrothermal alteration aka Porphyries, and will likely aid in vectoring toward any causative source intrusions that may be located on the property.
Teck Royalty
Chilean Metals sold its Copaquire property to Teck Resources Limited for Cad. $3,033,500, with CMX retaining a 3% NSR (net smelter return) royalty on production.
Teck has the right to purchase one third of the NSR for Cad. $3,000,000, thereby presenting the Company with near-term cash flow potential.
The royalty, whether 3% or reduced to 2% through Teck exercising its right,
has potential to provide significant future benefit to the Company in terms of non-dilutive exploration funding and/or
dividends to our shareholders,
may provide a model for the Company's future accretive growth.
Copaquire is located in Chile's 1st Region, 125 kms south of its capital city, Iquique, on upland plateau in a very well-endowed mineral neighbourhood and readily accessible via well-maintained all-weather roads.
The project adjoins Teck's Quebrada Blanca mine, where leachable copper reserves will be depleted by 2016 at current production and reserve levels (Teck website). Anglo-Xstrata-Mitsui's colossal Collahuasi copper mine also lies nearby.
Copaquire boasts two 43-101-compliant resources:
Sulfato South (dominantly copper)
Cerro Moly (dominantly molybdenum)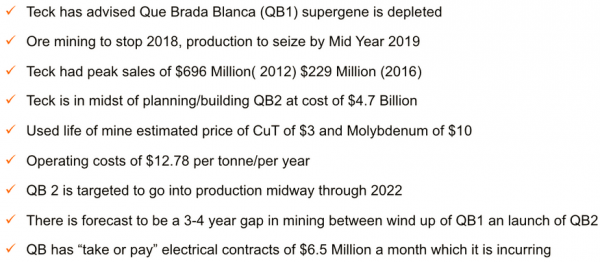 Tierra de Oro
Tierra Del Oro (Land of Gold) project in 3rd Region of Atacama about 75 km south of Copiapó, Chile.
Future work involves a targeted Geophysics
Coordinate 2nd drill program in Q3
Previous exploration data generated by both the company and other historic operators have been compiled and 8,660 training points were subjected to evaluation by Windfall's propriety CARDS AI model. CARDS uses data mining techniques to analyze compiled exploration data and to identify areas target zones with high statistical similarity to known "signatures" of areas of copper, gold, and silver mineralization (Figures 3 and 4 below). A total of thirteen (13) prospective target zones were identified by the prediction analysis, of which in Phase 1 the company has elected to drill test two of the zones.
The 'Chanchero' Zone has previously been identified as being prospective for copper porphyry-style mineralization. The area comprises a 0.75 square kilometers zone of argillic and quartz-sericite-pyrite alteration hosted by augite-hornblende diorite to granodiorite with roof pendants of hornblende monzonite. The area was surveyed by 3-D Induced Polarization (IP) methods in 2008 and generated a chargeability anomaly greater at than 50MV/V at its core which is open at depth. The area was the focus of four (4) core holes that proposed to intersect the chargeability anomaly longitudinally and at depth. A two-meter sample at 120 m depth had a grade of 716 g / t Silver and 0.453% Copper was intersected in hole 3 on the figure below.
Figure 1: Locations of 4 Proposed drill holes at the Chanchero target, relative to the outline/projected shape of the greater at than 50MV/V chargeability anomaly as defined by the 2008 3-D Induced Polarization survey.
The 'Cobalt' zone is an AI generated target Gold anomaly that occurs along a pronounced structure and is located along strike from existing shallow artisanal gold workings. A single core hole was orientated to intersect the structure at depth below the projected level of the adjacent historical workings. No material results were generated at this target during the drilling.
Figure 3: Tierra De Oro property CARDS target model-A for Gold anomalism.
Figure 4: Tierra De Oro property CARDS target model-A for Copper anomalism.
Tags: Battery, Chliean, CMX, Coper, EV, gold, GoldenTriangle, metals, Platinum Group Metals (PTM.T), silver, tsxv