For months I've talked about the loss of trust being the greatest risk to markets.  Specifically, investors can flow with market cycles and always come back.  However, if they lose trust, it will take a long time for Wall Street to gain them back.
Thanks to information provided by Dominic Jones over at IR Web Report, that trust is officially broken.  He cites a number of reports here, here and here – but here are some of the highlights, starting with this telling graphic: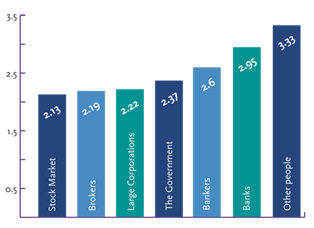 Nearly two-thirds of investors (62%) trust corporations less than they did a year ago.
Only 38% said they trust business to do what is right, a 20% plunge since last year.
Only 17% said they trust information from a company's CEO.
In China, the "trust in business" score actually rose from 54% to 71% among 35-to-64-year-olds.
Specialists remain the most trusted purveyors of information about a company, with 62% globally saying an academic or expert on a company's industry or issues would be extremely or very credible.
Employees and peers are also considered credible sources of information about a company, with 47% trusting what they hear from "a person like yourself" and 40% trusting conversations they have with employees.
In short, investors don't trust Wall St CEO's – but they do still trust people like themselves.  This tells me quite clearly that there is no better time for a grassroots investor relations campaign by small-cap companies.
Need another sign of the people times?  Obama went grassroots and it resulted in the election of the first ever Black President of the United States despite daunting odds from both within his party and amongst voters in general.  Your personal politics aside, the man proved the power of connecting at the ground level when the ground level had little trust in the upper echelon.
Wall Street is out of favor … waaayyy out of favor.  Take advantage of the environment, get out there and show investors why you and your hard working small-cap company can be trusted.
Regards,
George