Back In October of 2010, I posted the story The Rise of Social Media IR "Experts" a.k.a. Pretenders and I used the image below.  It was humorous poke at a very serious subject – Pretenders that are fleecing small-cap companies by promising they can tap into 700 Gazillion people on Facebook, Twitter and every where else (see full story at the end).
I used the concept for my keynote speech at IR Conference 2011 where I presented 500 Million Reasons Why Facebook IR Will Kill You (Watch Webcast) to small-cap resource companies – to their great satisfaction.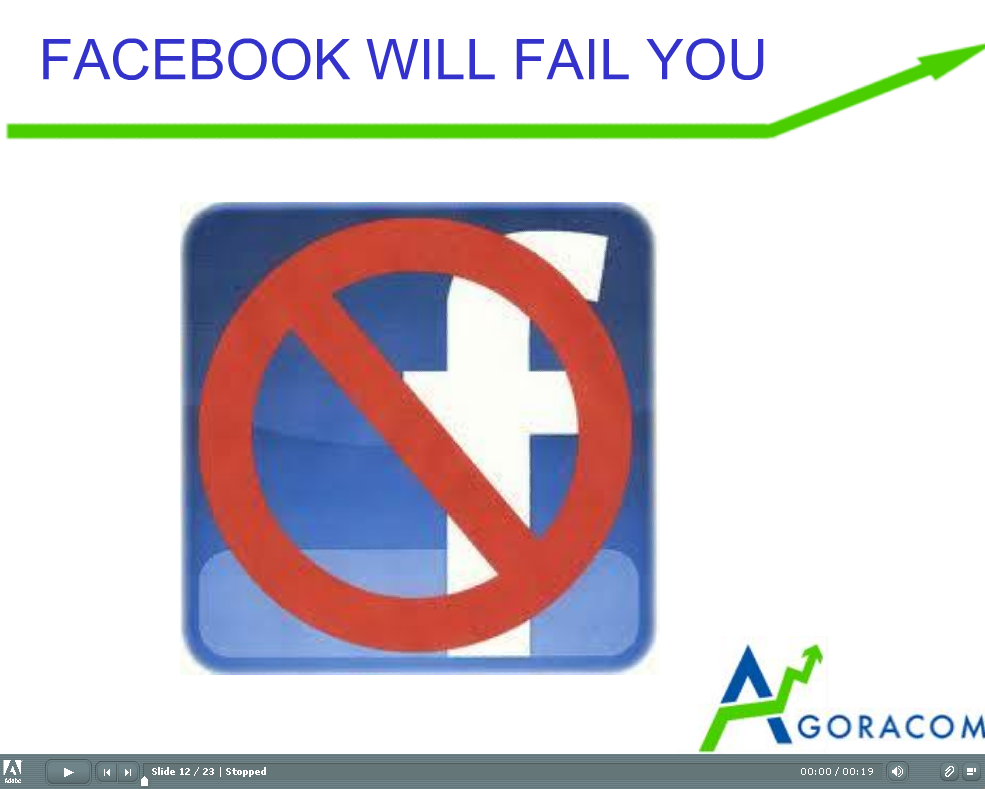 Well, it seems my good friends (and our fantastic web developers) at The Working Group are running into a similar problem in their industry and have also used humour to convey their caution to customers … so I just had to add it on to this post to drive the point home even further.
As you all know, I simply love online investor relations.  I believe it is the ultimate equalizer for small-cap companies that need affordable and efficient ways to both communicate with current shareholders and find new prospective investors.
I'm proud to say that AGORACOM pioneered online investor relations for small-cap companies by creating a platform that ties both communications and marketing together into one great package.  More than just lip service, AGORACOM ranked #57 in the Profit 100 of Canada's fastest growing companies in 2009.  This isn't meant to show off our success but, rather, to demonstrate how big online investor relations has become – and how big it is going to be.
GREAT ONLINE IR COLLEAGUES
I'm also happy to say that we don't own the online investor relations space.  Otherwise how valuable could the services be if others didn't find it worthy to participate in? For example, Q4 Websystems, Meet The Street and IR Web Report have done some great things in the space, keep me on my toes and teach me new tactics along the way.
I respect my colleagues for the work they do and for making the space better for everyone.
GREAT ONLINE IR PRETENDERS – A Twitter/Facebook/YouTube Account Is Not An Online IR Program
Unfortunately, we are now starting to see the rise of Online IR Pretenders.  They claim to be "leaders" in social media and will set up a Twitter/Facebook/YouTube account to prove it.
If it were only that easy.
Setting up some social media accounts mean nothing unless they come with traffic and visibility.  Any 16-year old kid can create flashy looking social media accounts for you in under an hour and bolt on some basic advertising to it.  This is why social media pretenders are so cheap. Unfortunately, social media pages do not make an online investor relations program, no matter how cheap the pitch.
Said another way, you're better off saving the $10,000 you'd spend on a Yugo and putting it towards a $40,000 Maxima.
Without a real vehicle, all you have is a puttering online IR program.
A REAL AUDIENCE VS. A PRETENDERS AUDIENCE
Social Media IR Pretenders don't have an audience  – they simply talk about the blue sky audience.  Hell, if a traditional IR firm pitched you by saying "there are 6 Billion people on this planet", would you get excited and hire them?  Think about it.
Here Is What A Pretender Audience Looks Like
Facebook Has 500 Million Members
Twitter Has 165 Million Users
YouTube Has 1 Zillion people watching 10 Zillion videos every day
Everybody in the world has a mobile phone
…. etc., etc.
This may all be true – but it doesn't mean any of them are going to run to your social media pages.  Getting their attention is hard. Very hard.  It takes time … years even …. to build credibility and content that drives a small fraction of these people to you.
Here Is What A Real Audience Looks Like:
CONCLUSION
Next time a Social Media IR "Expert" comes knocking on your door – ask them how much traffic they're actually pulling into their sites.  If they start talking about blue sky, show them the door.