When Gary Monaghan was appointed CEO of UC Resources a few months ago, it was to usher in a new era for the company and its shareholders. Â  Nonetheless, you hear that just about anytime a new coach takes over a team or a company, so some shareholders of UC Resources could have been forgiven if they didn't hold their breath. Â Well, it's time for them to exhale because Gary has done nothing less than exceed expectations by embracing online investor relations to create better communications and relationships with shareholders. Â Here are the highlights:
Gary and UC Resources may be clients of AGORACOM – but that doesn't take away from the fact that he simply gets online investor relations.  Specifically, though conferences and road shows are great places to meet your investors in person 3-4 times per year, online collaboration is the only way to truly collaborate with your shareholders anytime and anywhere.
This is especially important for small-cap companies that lack analyst and media coverage to fill the gaps.  As a result, shareholders heavily rely on management to go beyond press releases and actually communicate with them about the intricacies that potentially affect their investments.  Communications that are just one click away create greater confidence, turst and belief in the long-term vision of the company, leading to a greater number of shareholders becoming long-term investors and the company's best ambassadors.
INVESTORS OVERWHELMINGLY APPROVE … Â INDUSTRY EXPERTS COVERING THE STORY
More than just lip service, look how Gary's Q&A has shot to the top of the most favourite posts as voted by shareholders: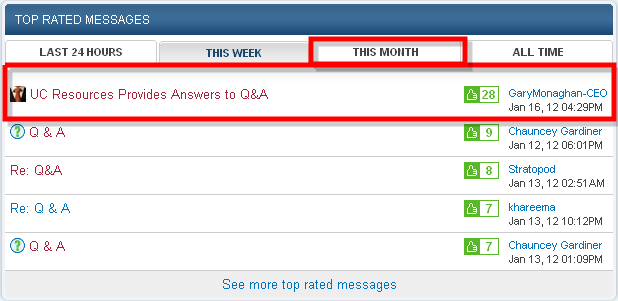 Moreover, his efforts are already starting to get recognized by industry experts:

Congratulations to Gary and the entire UC Resources team.  We not only look forward to more of the same … we also hope this will serve as a great example for other small-cap companies to follow.
Contact AGORACOM to discuss your online investor relations program.
Regards,
George