Why Stria Capital?
Aiming to become one of the lowest cost producers in the world for battery- grade technology lithium — critical for high-technology green energy industries.
Management is key. Stria has assembled a truly world-class, experienced and accomplished team.
Stria's strategic, cost-effective exploration substantially reduces the risks and expenditures of exploration by focusing on deposits that are readily available to advance.
Stria's unique and extensive experience in understanding and utilizing the latest, most-advanced geophysical tools affords the Company a competitive edge within the industry.
The lithium market remains robust with tremendous upside potential versus other metals.
A New Source, a new process for technology lithium
Several foreign nations are already stockpiling materials critical to the emerging green technology economy, which means a reliable North American supply of high quality lithium-based products has never been more urgent. At Stria, we believe Canada has a key role to play in the green tech economy, and we plan to be a part of it by carving out a supply and technology niche in the critical and strategic metals world.
The Stria strategy …
Stria, through a business plan combining strategic alliances and property acquisition, aims to be among an elite group of Canadian producers helping to drive the clean tech economy through the provision of a dependable supply of "home-grown" lithium carbonate and through innovative mineral processing and purification technologies for primary lithium-spodumene ore.
Pontax-Lithium property …
Stria holds 100 per cent ownership of the Pontax-Lithium property located in the west-central James Bay territory in northern Quebec.
The property, which Stria acquired from Khalkos Exploration Inc. in 2013, is host to a recently discovered swarm of a dozen spodumene-bearing (a lithium mineral) pegmatite dikes, each one metre to 10 metres in thickness, plus a series of small centimetre-thick dikelets.
The lithium-bearing dikes outcrop over an area of 450 metres by 100 metres (for more information, click here to view the NI-43-101 Technical Report (Girard,2013) on the Pontax-Lithium Property).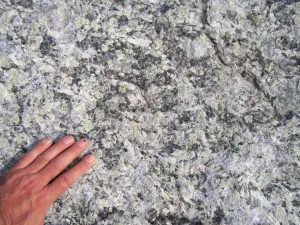 Close-up view of Pontax's spodumene-bearing pegmatite. The light grey spodumene is idiomorphic and lath-shaped. The intergranular grey mineral is quartz.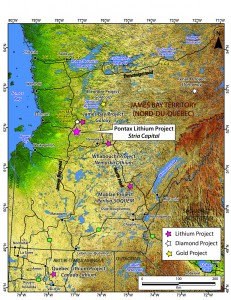 Willcox Lithium / Arizona
Stria holds 100 per cent ownership of the Willcox Lithium project, located in Cochise County, Arizona. Acquired through the purchase of Pueblo Lithium LLC from AGR-O Phosphate Inc. in 2014, the property is comprised of 61 lode mining claims.
Willcox Playa is located a few kilometres south of the city of Willcox in north-central Cochise County, 120 km east of Tucson. This barren flat — elevation 1,260 metres (approx. 4,136 feet) — is the lowest part of Willcox basin, which is the northern end of Sulphur Springs Valley. The location is known for its lithium content, and Willcox Playa was part of the U.S. Geological Survey's 1978 drill program testing lithium distributions in the late Cenozoic sedimentary basin.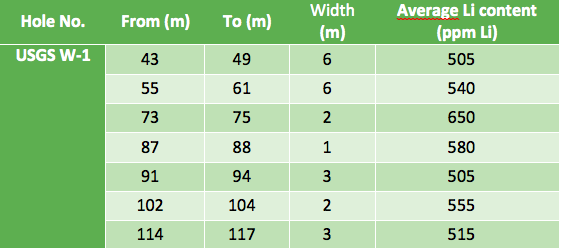 Tags: #mining, #smallcapstocks, $TSXV, lithium, Technology