Vancouver, British Columbia, Canada / June 24th, 2014 / Next Gen Metals Inc. ("Next Gen", the "Company") (CSE: N, OTC Pink: NXTTF, FSE: M5BN) and its wholly owned subsidiary GreenRush Financial Conferences have organized for its first conference in Toronto, Ontario, on June 16th, an impressive slate of speakers representing all aspects of the Medical Marijuana, Industrial Hemp and Alternative Medicine Industries.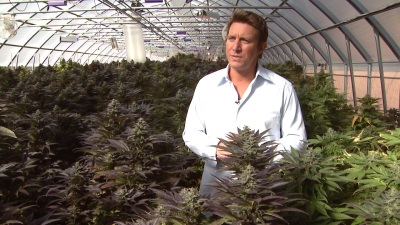 Click Image To View Full Size
The Conference keynote speaker is Mr. Josh Stanley, of Charlotte's web fame. He will be speaking at 12:15 p.m. on Thursday, June 26.
Josh Stanley is a leading medical cannabis entrepreneur and advocate working to advance the medical cannabis industry in the United States and throughout the world. Josh has worked in the medical cannabis industry for over seven years and was one of the first individuals to open a medical marijuana dispensary in Denver, Colorado. He started Colorado's first true political action committee and 501c4, the Medical Marijuana Industry Group, which he co-chaired.
In 2010, Josh assisted in the drafting of House Bill 1284, the first bill of its kind to further define and establish Colorado's medicinal cannabis state regulatory structure through the Colorado Department of Revenue. The following year he assisting in drafting House Bill 1043 and was responsible for writing the research and development portion of the bill. Josh sat on the rules and regulations board of the Colorado Department of Revenue's Medical Marijuana Enforcement Division as well as the rules and regulations board for research and development.
Josh worked with National Geographic Channel on a groundbreaking television series called American Weed that chronicled his family's mission to keep medical marijuana legal in Colorado and tracked his observational research studies and patient successes with medical cannabis.
Josh is credited with creating the idea to breed a non psychoactive strain of the cannabis plant with low Tetrahydrocannabinol (THC) and high Cannabidiol (CBD) content which became known as "Charlotte's Web." This specialized sativa varietal of medical cannabis has shown promising results in alleviating symptoms of intractable pediatric epilepsy as well as a variety of other illnesses and disease states. Josh's effort to help children restore their lives with high-CBD cannabis extracts made international headlines in 2013 and was prominently featured on Sanjay Gupta's highly acclaimed CNN documentary special WEED, and just recently in March of 2014 was followed by the sequel, WEED 2.
Josh had the honor to perform a TEDx Talk in Boulder, Colorado that allows viewers to understand, in less than 19 minutes, the true healing powers of medicinal hemp, (high CBD strains).
A much sought after speaker, Josh has the ability to sift through the propaganda and fear encompassing the medical marijuana industry and delivers a compassionate appeal to end cannabis prohibition. Josh has recently been active in international arenas as he seeks to foster the advocacy for medicinal rights to cannabis on the global stage. .
Full list of Conference Speakers: For a complete list of speakers and their profiles which shows their diversity and areas of expertise including scheduled presentation times, please visit www.greenrushfinancialconferences.com and click on the Agenda page.
Management welcomes everyone who has an interest whether personal or for business to attend the GreenRush Conference and listen to all of the speakers who will provide an insight into a wide range of topics within their respected fields of expertise.
About GreenRush Financial Conferences
GreenRush Financial Conferences is a wholly owned subsidiary of Next Gen (PubCo, CSE: N, OTC Pink: NXTTF, FSE: M5BN). GreenRush's vision is to be the premier purveyor of investment conferences for the Medical Marijuana, Industrial Hemp and Alternative Medicine industries.
The conference will feature insightful speakers, government, health and industry specialists, public and private companies, fund managers, bankers, brokers, analysts, and media who share a common interest in the Medical Marijuana, Industrial Hemp and Alternative Medicine sectors. GreenRush Conferences will be tailored to institutional, high net worth and retail investors with a focus on education and investment in the Medical Marijuana, Industrial Hemp and Alternative Medicine sectors.
About Next Gen (CSE: N, OTC Pink: NXTTF, FSE: M5BN)
Next Gen is a diversified Canadian public company which focuses on investing in the Medical Marijuana, Industrial Hemp and Alternative Medicine sectors. Recent regulatory/legal changes in North America have provided an opportunity for the company to enter into this emerging multi-billion dollar industry. Next Gen's vision is to be the leading provider of venture capital, management expertise, education, brokerage and consultancy solutions and a facilitator for these explosive new industries. For further information on the company, visit our website at www.nextgenmetalsinc.com
On behalf of the Board of Directors
"Harry Barr"
Harry Barr, President and CEO
FORWARD LOOKING INFORMATION
This News Release contains forward-looking statements. The use of any of the words "anticipate", "continue", "estimate", "expect", "may", "will", "project", "should", "believe" and similar expressions are intended to identify forward-looking statements. Although the Company believes that the expectations and assumptions on which the forward-looking statements are based are reasonable, undue reliance should not be placed on the forward-looking statements because the Company can give no assurance that they will prove to be correct. Since forward-looking statements address future events and conditions, by their very nature they involve inherent risks and uncertainties. These statements speak only as of the date of this News Release. Actual results could differ materially from those currently anticipated due to a number of factors and risks including various risk factors discussed in the Company's disclosure documents which can be found under the Company's profile on www.sedar.com. This News Release contains "forward-looking statements" within the meaning of Section 27A of the Securities Act of 1933, as amended, and Section 21E the Securities Exchange Act of 1934, as amended and such forward-looking statements are made pursuant to the safe harbor provisions of the Private Securities Litigation Reform Act of 1995. The CSE has neither reviewed nor approved the contents of this News Release.
Start your small cap medical marijuana research in the AGORACOM Small Cap 
Medical Marijuana Stocks Gateway: 
http://agoracom.com/portal/Small%20Cap%20Medical%20Marijuana%20Stocks
Tags: #smallcapstocks, $TSXV, CSE, GreenRush Conferences, GreenRush Financial Conferences, medical Marijuana