– Next Gen and GreenRush Financial Conferences announce historic international partnership with Media Personalities Cheryl Shuman, American's First Lady of Cannabis to launch historic Cannabis Summit.
– Ms. Shuman brings with 30 years of expertise in the cannabis, celebrity and media industry and has launched over 1700 companies within the cannabis sector.
– First Cannabis entrepreneur to manage an historic $100 million hedge fund to invest in cannabis businesses.
– Her Celebrity driven "Beverly Hills Cannabis Club" Featured on AdWeek's Magazine Cover for building the most recognized brand and the largest media platform in the cannabis industry beginning with $150,000 in seed capital in 2009 to $6.5 million in revenue in less than 18 months as the face of KUSH MAGAZINE.
– Shuman's "mommy lobby" is known as the most powerful political force in American politics. As the Executive Director of Moms for Marijuana Shuman has over 500,000 followers and recognized by media as the "secret to legalizing marijuana".
– Ms. Shuman launched an historic "rebranding" campaign for cannabis generating $537 million in earned media worldwide to date. Shuman brings an elite level of credibility, experience, relationships and exposure to GreenRush, having both worked with and been seen on ABC's 20/20, Katie Couric Show, CNN, Fox Business News, The View, Good Morning America and many more.
– The conference is being held in Seattle, Washington on September 23, 2014 at the Washington State Convention Centre – Level 600
– GreenRush Financial Conferences is a wholly owned subsidiary of Next Gen (CSE-N, OTC-PK NXTTF, FSE-M5BN) and is aligned to be the Premier Purveyor of Investment Conferences for the Medical Marijuana, Industrial Hemp and Alternative Medicine Industries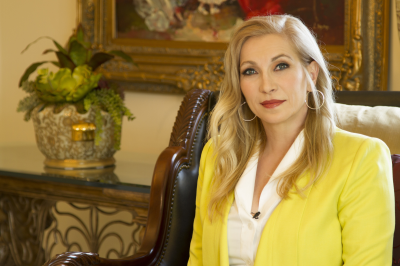 Click Image To View Full Size
Vancouver, British Columbia, Canada / TNW-ACCESSWIRE / August 21, 2014 / Next Gen Metals Inc. ("Next Gen", the "Company") (CSE: N, OTC Pink: NXTTF, FSE: M5BN) is pleased to announce that it has engaged Cheryl Shuman of Echelon Cannabis to consult and co-host GreenRush Financial Conference being held in Seattle, Washington on September 23, 2014. Management of Next Gen is delighted to have the opportunity to work with Cheryl, who is commonly referred to as the "Martha Stewart of Marijuana" and who brings decades of experience working with media, celebrities, marketing and health care. She has been instrumental in the cannabis movement since 1996 working as an activist and legal cannabis patient. Since using cannabis therapy, she has survived cancer and injuries from two car crashes.
Her private medical cannabis collective, "The Beverly Hills Cannabis Club" is unlisted and membership is by referral only. Through her personal relationships and connections within Hollywood and the media, Cheryl Shuman has been named as one of the most influential women in the cannabis reform movement by international media.
Harry Barr, CEO, stated that, "We look forward to working with Cheryl Shuman to develop and brand the GreenRush Financial Conference as the best investment conference in this exciting and emerging multi-billion dollar Industry."
Next Gen is scheduling a multi city conference schedule over the coming months and in association with Echelon is looking forward to continuing to establish its reputation as the premier investment/business conference in the Industry.
Next Gen and Cheryl Shuman would also like to formally invite interested investors, industry participants, stakeholders and exhibitors to the conference being held in Seattle, Washington on September 23, 2014.
If you are interested in being a speaker, exhibitor or sponsor for the GreenRush Financial Conferences, please contact:
Exhibitors/Sponsors
Cheryl Shuman [email protected] 310.779.4797
Ray Rich [email protected] 604.648.1401
Taylor Barr [email protected] 604.685.1870
Media
Cheryl Shuman [email protected] 310.779.4797
Andrew Brougham [email protected] 604.648.1414
Website: www.greenrushfinancialconferences.com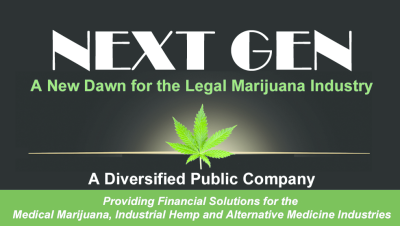 Click Image To View Full Size
About Next Gen
(CSE: N, OTC Pink: NXTTF, FSE: M5BN)
Next Gen is a diversified Canadian public company which focuses on investing in the Medical Marijuana, Industrial Hemp and Alternative Medicine sectors. Recent regulatory/legal changes in North America have provided an opportunity for the company to enter into this emerging multi-billion dollar industry. Next Gen's vision is to be the leading provider of venture capital, management expertise, education, brokerage and consultancy solutions and a facilitator for these explosive new industries.
Next Gen's business model generates new industry business proposals and plans on a continuous basis. To that end, Management is currently negotiating with a number of companies who are interested in entering into contractual arrangements to co-venture, co-finance, and option-joint venture on one or more of Next Gen's large inventory of business opportunities and existing 100% owned companies and projects in these multi-billion dollar industries.
For further information on the company, visit our website at www.NextGenmetalsinc.com.
About Cheryl Shuman
Cheryl Shuman's TV reality started at age three with Charles Kuralt. By age 17 she'd been in several television appearances and was offered to host a twice-weekly regular show on WLWT-TV in Cincinnati that led to a segment on 'PM Magazine.' At age 23, Cheryl relocated to Los Angeles as the personal optician to the stars and created a new business Starry Eyes. In Hollywood with Starry Eyes, she worked on the biggest films, TV and music properties generating revenues of $22 million within 36 months. This led to her own show on the QVC Network and a mutually rewarding 7-year relationship expanding to include product placement, production and branded entertainment divisions. In 2006 Shuman was diagnosed with cancer, and after years of following failed allopathic medicine treatments, she opted for medical cannabis (raw juice and oils grown on a California farm) as an alternative. Having successfully used medical cannabis, she subsequently founded the Beverly Hills Cannabis Club, became the face of medical cannabis and is most visible woman in the medical marijuana reform movement. Cheryl received the 2013 Activist of the Year award. Together Cheryl and Aimee, her daughter and EVP of Cheryl Shuman, Inc., have reached over 100 million viewers while appearing on such mainstream shows as CNN's Piers Morgan Live, the Katie Couric Show, The View, ABC's 20/20, Good Morning America, Fox Business News and many other international media outlets. Cheryl Shuman is represented by agent Mark Itkin with the prestigious William Morris Endeavor Agency in Beverly Hills. For more information visit http://www.cherylshuman.com or, to contact Cheryl Shuman directly, call 310.779.4797.
On behalf of the Board of Directors
"Harry Barr"
Harry Barr
President & CEO
FORWARD LOOKING INFORMATION
This News Release contains forward-looking statements. The use of any of the words "anticipate", "continue", "estimate", "expect", "may", "will", "project", "should", "believe" and similar expressions are intended to identify forward-looking statements.
Although the Company believes that the expectations and assumptions on which the forward-looking statements are based are reasonable, undue reliance should not be placed on the forward-looking statements because the Company can give no assurance that they will prove to be correct. Since forward-looking statements address future events and conditions, by their very nature they involve inherent risks and uncertainties. These statements speak only as of the date of this News Release. Actual results could differ materially from those currently anticipated due to a number of factors and risks including various risk factors discussed in the Company's disclosure documents which can be found under the Company's profile on www.sedar.com. This News Release contains "forward-looking statements" within the meaning of Section 27A of the Securities Act of 1933, as amended, and Section 21E the Securities Exchange Act of 1934, as amended and such forward-looking statements are made pursuant to the safe harbor provisions of the Private Securities Litigation Reform Act of 1995. The CSE has neither reviewed nor approved the contents of this News Release
Start your small cap medical marijuana research in the AGORACOM Small Cap 
Medical Marijuana Stocks Gateway: 
http://agoracom.com/portal/Small%20Cap%20Medical%20Marijuana%20Stocks
Tags: #smallcapstocks, $TSXV, CSE, GreenRush Conferences, GreenRush Financial Conferences, medical Marijuana