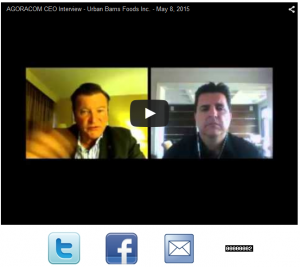 What is Cubic Farming?
A revolution in Controlled Environment Agriculture (CEA)

Propriety, patent-pending, looped conveyer growing system

Advanced uniform LED technology

Automated watering and nutrients

Optimal conditions for crops to transition from seeds to maturity through pre-set germination, growing and harvesting phases.
Why Urban Barns Foods?
Unknown story due to no previous IR = best opportunity to get in
Tier-1 Customers = Commercial Acceptance
320 square feet = 3 acres of farm production
$5M Market Cap = Great Risk/Reward
Watch this video clip to see what production looks like
Watch this video clip to see what the Executive Chef at Chateau Frontenac has to say
Hub On AGORACOM / Corporate Profile / Watch Interview!
Tags: #smallcapstocks, $TSXV, CSE, Cubic Farming, non gmo