Additional claim added to the Lithium Two Project-Surface samples from the Eagle Pegmatite yielded assays up to 3.04% Li2O
Surface samples from the FD No. 5 Pegmatite yielded assays up to 2.08% Li2O
 Follow-up surface sampling ongoing
 Drilling planned for early 2017
November 29th, 2016 / Vancouver, British Columbia – Pacific North West Capital Corp. ("PFN" the "Company") (TSXV: PFN; OTCQB: PAWEF; FSE: P7J) is pleased to announce that its 100% owned subsidiary, Lithium Canada Developments has acquired additional ground from Mustang Minerals Corp. (Mustang), increasing the size of the Lithium Two Project.
Following up on the Lithium grades previously released on the Lithium Two Project (News release Nov. 17th, 2016) from surface sampling of the Eagle and F.D. No. 5 Pegmatites, the company decided to enact a clause in their agreement with Mustang and acquire additional ground. This ground has been acquired at no additional cost and the size of the project area has doubled. The company considers the Cat Lake Area to be highly prospective for potentially economic lithium deposits. Numerous pegmatites in the region are Spodumene-Bearing and of the Lithium-Cesium-Tantalum (LCT) type of pregmatites, which are ideal for lithium potential. The Lithium Two Project is located north of Cat Lake, approximately 145 kilometres (90 miles) northeast of Winnipeg, Manitoba (Canada) and 22 kilometres north of the Tanco Mine Site (Figure 1). Geologically, the project is situated in the Cat Lake portion of the Cat Lake – Winnipeg River Pegmatite Field. The Winnipeg River Pegmatite Field hosts the World-Class Tanco Pegmatite.
Two historically known Pegmatites exist on the project area, the Eagle Pegmatite and the F.D. No. 5 Pegmatite. Surface sampling of the Eagle Pegmatite returned assays up to 3.04% Li2O. This pegmatite extends onto the CAT 4 claim to the west. It is the CAT 4 claim that has been acquired from Mustang.
The Eagle Pegmatite has been reported to be exposed at surface as a series of lenticular Spodumene-bearing Pegmatite Dykes (Spodumene is a lithium bearing mineral found in Pegmatite Dykes) over a distance of approximately 823 metres. In 1947, drilling of the Eagle Pegmatite estimated that there was 545,000 tonnes (600 000 tons) of Spodumene with an average content of 1.4% Li2O to a depth of 60 metres (200 feet). This is a historic estimation and not NI 43-101 compliant. The Eagle Pegmatite remains open to depth. Additional surface sampling of the pegmatites is ongoing. Drilling of the Pegmatites is planned for early 2017.

Click Image To View Full Size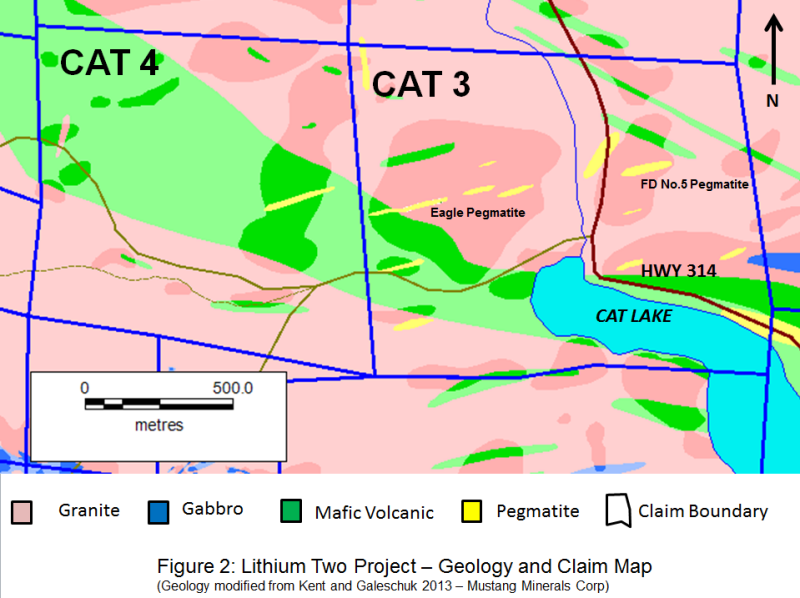 Click Image To View Full Size
To date, the company has approximately 6,318 hectares (15,612 acres) of mineral claims, with Lithium Mineral Potential in the Cat Lake-Winnipeg River Pegmatite Field of southeast Manitoba. PFN is the largest mineral claim holder in the Pegmatite Field. As part of company's Prospector Generator Model, negotiations are currently ongoing with interested 3rd parties for possible Option/Joint Ventures and other Exploration Initiatives.
ABOUT PFN'S PGM DIVISION
PFN's flagship project is its 100% owned River Valley PGM Project (PFN Website – River Valley Project) in the Sudbury Mining District of northwest Ontario (60 kilometres due east of Sudbury, Ontario). Presently the River Valley Project has Measured + Indicated resources of 91 million tonnes @ 0.58 g/t* palladium, 0.22 g/t platinum, 0.04 g/t gold at a cut-off grade of 0.8 g/t for a PdEq of 2,463,000 ounces PGM plus gold. River Valley PGM-copper-nickel sulphide mineralized zones remain open to expansion and is undergoing continued exploration. Results are expected from the fall drill program in the next few weeks.
QUALIFIED PERSON
The contents contained herein that relates to Exploration Results or Mineral Resources is based on information compiled, reviewed or prepared by Dr. Bill Stone, Principal Consulting Geoscientist for Pacific North West Capital Corp. Dr. Stone is the Qualified Person as defined by National Instrument 43-101 and has reviewed and approved the technical content.
On behalf of the Board of Directors
" Harry Barr "
Harry Barr
Chairman and CEO
Neither the TSX Venture Exchange nor its Regulation Services Provider (as that term is defined in the policies of the TSX Venture Exchange) accepts responsibility for the adequacy or accuracy of this release.
Cautionary Note Regarding Forward Looking Statements:. This release contains forward-looking statements that involve risks and uncertainties. These statements may differ materially from actual future events or results and are based on current expectations or beliefs. For this purpose, statements of historical fact may be deemed to be forward-looking statements. In addition, forward-looking statements include statements in which the Company uses words such as "continue", "efforts", "expect", "believe", "anticipate", "confident", "intend", "strategy", "plan", "will", "estimate", "project", "goal", "target", "prospects", "optimistic" or similar expressions. These statements by their nature involve risks and uncertainties, and actual results may differ materially depending on a variety of important factors, including, among others, the Company's ability and continuation of efforts to timely and completely make available adequate current public information, additional or different regulatory and legal requirements and restrictions that may be imposed, and other factors as may be discussed in the documents filed by the Company on SEDAR (www.sedar.com), including the most recent reports that identify important risk factors that could cause actual results to differ from those contained in the forward-looking statements. The Company does not undertake any obligation to review or confirm analysts' expectations or estimates or to release publicly any revisions to any forward-looking statements to reflect events or circumstances after the date hereof or to reflect the occurrence of unanticipated events. Investors should not place undue reliance on forward-looking statements.
Tags: #mining, #smallcapstocks, $TSXV, CSE