23-year-old college dropout has raised tens of millions of dollars
From investors such as former junk bond king Mike Milken and billionaire Phil Anschutz's AEG, to be among the first team owners in a new international video-game league
By
Christopher Palmeri
November 28, 2017, 5:00 AM EST
Noah Whinston is a young man on the go. The 23-year-old college dropout has raised tens of millions of dollars, from investors such as former junk bond king Mike Milken and billionaire Phil Anschutz's AEG, to be among the first team owners in a new international video-game league.
The Los Angeles Valiant will start competing next month in the inaugural year of Activision Blizzard Inc.'s Overwatch League. Whinston and his backers paid the video-game giant $20 million for their franchise rights, aiming to get in on the ground floor of what could be the next big professional sport.
Video-game competitions have been around since the 1970s. What's different now is that young people are spending less time watching traditional sports like football and basketball and more time glued to game consoles and tablets. Companies like Activision see live events and broadcasts of their games as a natural extension of their business and are tapping big names in media, finance and sports to participate.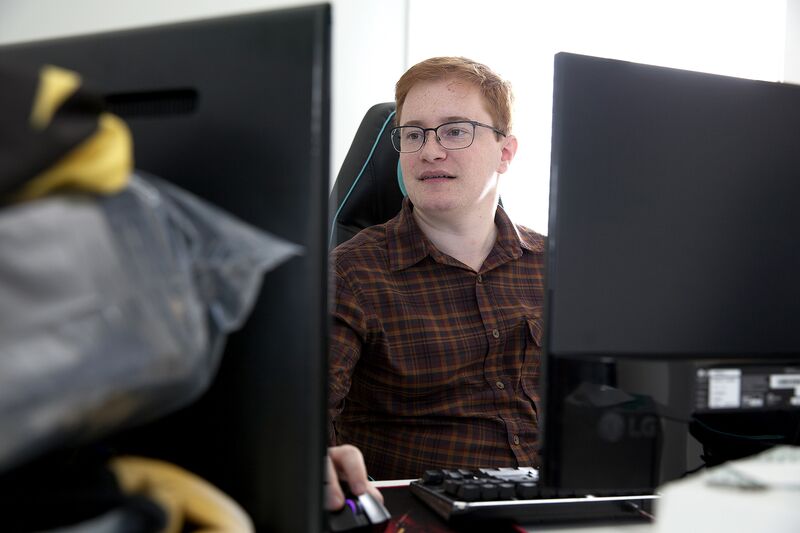 Noah Whinston at the training facility for the Los Angeles Valiant.
Photographer: Troy Harvey
Activision, based in Santa Monica, California, has raised $240 million selling franchises for the Overwatch League, in which players compete in a cartoon-like shooting game that's a little more than a year old. Last week, Riot Games, part of Chinese internet giant Tencent Holdings Ltd., announced 10 franchises for its newly revamped North American League of Legends Championship Series. Prices started at $10 million.
"Everybody is looking at an audience base that is 300 million people and saying there has to be a way to harness the commercial part of this," said Bruce Stein, a former Mattel Inc. executive whose company acquired the rights to a League of Legends team. "We see this as a sea change in the way people interact with content," said Stein, whose company attracted investments from basketball great Magic Johnson and Walt Disney Co.
The change is dizzying for the older hands. Last month, Jason Lake sold a majority stake in his 14-year-old CompLexity Gaming to Dallas Cowboys owner Jerry Jones and investor John Goff for an undisclosed sum. Lake said he always operated on a break-even basis, but competing in a world of $20 million franchise fees and dedicated training facilities required outside capital. Players who used be paid $2,500 a month are being lured to other teams for 10 times that salary, according to Lake. "We were becoming a farm team," he said.
Whinston grew up in the Chicago suburb of Evanston, where his father was an economics professor and his mother taught political science. Whinston played online poker for money in high school and built a business selling Magic: The Gathering trading cards. He later discovered a site called Vulcun where fans could build esports teams and win money much like in fantasy sports. Soon Whinston's name was popping up at the top of leader boards.
Amid questions about the legality of such betting, Vulcun shut down, but not before Whinston was introduced to Clinton Foy, a Los Angeles-based venture capitalist. The pair bought an existing esports business, Team 8, and renamed it the Immortals, bringing in investors including Peter Levin, an executive at Lions Gate Entertainment Corp., and a venture capital fund affiliated with the rock band Linkin Park. Foy said he had to sign leases on property for the Immortals because no landlords would rent to the boyish CEO.
Noah's father Michael Whinston, who now teaches at the Massachusetts Institute of Technology, said he and his wife tried to talk their son out of leaving school. The senior Whinston now feels his son was right. "I'm an economist," Michael Whinston said. "He passed the market test."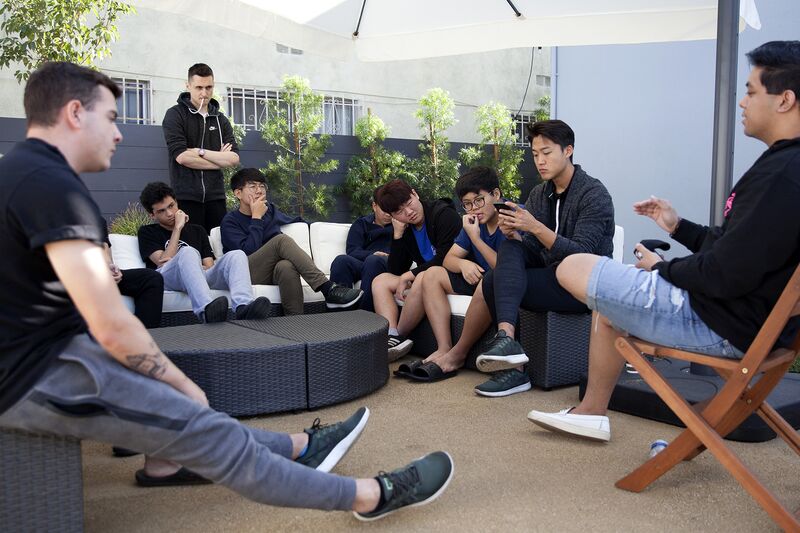 A team meeting at the new Immortals and Los Angeles Valiant training facility located in Los Angeles.
Photographer: Troy Harvey
The Immortals now fields teams playing four games, including Valve Corp.'s Dota 2 and Nintendo Co.'s Super Smash Bros. The company failed to win a League of Legends franchise, despite having a team in a prior version of the league and seeming like a shoo-in to everyone in the industry. "I won't lie, I'm disappointed, even a little heartbroken, in not being able to participate," Whinston said in a video statement to fans.
In an online chat with fans, Riot Games esports executive Chris Hopper declined to discuss why some teams didn't make the cut, calling the decision "really difficult."
Esports competitions generate money from ticket sales, corporate sponsorships and team merchandise. The Immortals' sponsors come from the video game world: HP Inc., chairmaker LF Gaming and Bloody Gaming, which sells mouses and other accessories. Stein's Team Liquid has 12 sponsors including Monster Beverage Corp. listed on its website.
Whinston's company houses its two dozen pros in an apartment building in Marina Del Rey. Players practice from 10 a.m. to 6 p.m. at the Immortals' Culver City campus. They scrimmage and in some cases play other teams, working from inside a handful of garage-like "pods." Lunch and dinner are provided. Physical therapists and sports psychologists are on call.
The 20,000-square-foot property is among the first standalone training facilities for esports. Previously players lived and practiced in houses rented by the company. Whinston lived in one with nine other people. "I lasted 18 months," he said. When the new Overwatch League season starts, teams will compete in a theater Activision leases in Burbank, California.
Whinston said his approach to picking teams involves a mix of data and human dynamics. Eight of his 11 Overwatch players are under 20 years old, green even by esports standards. Seb Barton, a U.K. native who goes by the name Numlocked, is an elder statesman at 24. He's an important part of the team, Whinston said, because his effusive personality rallies others when they're not performing well.
"We're not looking to go out there, sign the biggest name free agents, and just try to throw them in a room and hope it all works out," Whinston said. "We're not the New York Yankees of esports. We're not trying to be."
—With assistance from Eben Novy-Williams
Source: https://www.bloomberg.com/news/articles/2017-11-28/how-a-23-year-old-gamer-got-billionaires-to-back-his-esports-team
Tags: #smallcapstocks, $TSXV, eGambling, egaming, esports