"That makes all of the work we did worthwhile."
ByCharlie Deitch @CharlieDee71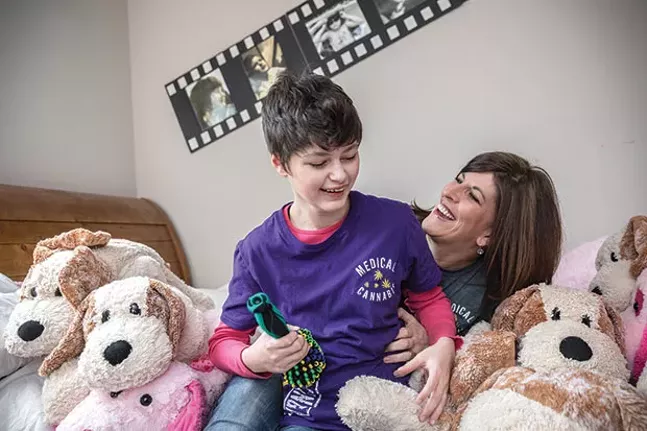 CP photo by Renee Rosensteel, Hannah Pallas laughs with her mother, Heather Shuker
Stretched out in his recliner, Ryan Briggs is having a great nap. Laying there in his Bob Marley T-shirt, you can hear him gently snoring. Although his slumber is intermittently interrupted by a slight seizure, this is starting out as a good day.
At just 18, Briggs has already had a pretty rough life. When he was born, doctor error caused the child to go more than 20 minutes without oxygen. Briggs lived, but is nonverbal and unable to care for himself. Worse than that, though, were the seizures. He experienced close to 500 of them every day — some smaller, others larger and more violent. He received all kinds of treatments and medication, but few of them helped; some made things even worse. But his mother, Diana Briggs, was determined to keep looking for that one thing that would help.
"We went everywhere for treatment," she says. "We did one called the starvation diet, we did hyperbaric treatments and even went out of the country for stem-cell treatments. But nothing seemed to help. The seizures would get so bad, and they were frequent. We tracked every one of them. In fact, that's how my youngest daughter learned to count, by counting her brother's seizures."
In 2014, Briggs saw a video that changed her life. It provided the same epiphany that parents across the state would have as the video was shared widely. The video showed that oil extracted from marijuana worked to stop the seizures of a 5-year-old Colorado girl named Charlotte Figi. Subsequently, a large group of parents across the state banded together to fight to bring medical marijuana to Pennsylvania. It was an uphill fight, but on April 17, 2016, Gov. Tom Wolf signed the legislation into law, and earlier this year, Pennsylvanians could begin legally purchasing medical cannabis.
There is no question that without the parents of sick children stepping forward to fight this battle, the law would never have been approved. But, as Briggs says, "It's easy to say no to an adult, but it's pretty hard to do that to a sick kid who's suffering."
click to enlarge
Ryan Briggs and his family pose for a photo with Gov. Tom Wolf the day he signed the medical-marijuana bill into law.
When the World Medical Cannabis Conference & Expo opens in Pittsburgh later this week, there will be many panels on "children and cannabis." With that in mind, City Paper checked in on some families who have spent the past four years fighting for legalization and see how their lives have changed. Aside from Briggs, we also talked to Heather Shuker, an outspoken advocate for the product and the mother of Hannah Pallas, a 15-year-old who has dealt with intractable epilepsy her entire life.
"A few years ago, Hannah was confined to a chair, she never smiled, she couldn't lift her extremities, she was non-verbal," Shuker says, as a walking, squealing Hannah moves about their apartment from room to room. "Look at her now. She has found her voice, and she has found her smile again. It's an amazing transformation."
An obvious positive of medical-marijuana dispensaries opening up across the state is having available product close by. But for many parents, this won't be the first time they've purchased these medications. Last year, the state enacted a safe-harbor provision that made it legal for anyone who is qualified to receive the drug to have it in their possession. Many parents began going out of state for the product, and since it was still illegal in several states, transporting it over state lines was a felony. For other parents, though, having safe-harbor protections still wasn't their first foray into buying medical marijuana.
"I haven't talked about this much before, obviously, but we've been experimenting with Hannah's medication for a few years now," Shuker says. Sometime between 2014 and 2015, Shuker began going out of state to get medical-marijuana products. She always traveled by plane and brought the oils back with her on the plane, a nerve-wracking experience. "I knew it was a risk, and I knew it would be bad if I got caught, because someone could try to take Hannah away," she says. "But my daughter was sick, with zero quality of life. I had to help her, so at the end of the day, it wasn't really a choice at all."
Briggs had the same feeling that Shuker did. She would fly to Colorado to get medication and bring it back with her. Once, because of some change she forgot to take out of her pocket, she was pulled aside and given a complete search, including having her bags searched. They didn't find the oil, but it made for a tense moment.
Because of the cost of going to Denver and the risk, she decided to find a local contact. While she won't give many details about the person or the transactions, she says the dealer became part of the family.
"That first Christmas, I baked him some cookies," Briggs says. "I didn't think it was strange at the time. I'm a mom — that's what we do for family and friends, we bake cookies."
The other thing moms do is help others in need.
Source: https://www.pghcitypaper.com/pittsburgh/medical-marijuana-making-a-big-difference-in-the-lives-of-sick-children-and-their-families/Content?oid=7667617
Tags: #smallcapstocks, $TSXV, CSE