Distance learning programs and online learning solutions are also becoming popular in India, and are expected to create a US$1.96 billion market by 2021.
Currently, there are approximately 1.6 million users availing online education in India
India's higher education system is the third largest in the world, after the US and China, with over 35 million students.
Focusing on this number alone is, however, misleading – India's overall enrollment rate in 2017 was 25.2 percent, compared to China's 43.39 percent, pointing to a significant deficit.
Next year, as Prime Minister Modi's government is up for re-election, job creation will be among the foremost concerns for voters.
Will the proposed reforms and skilling efforts effectively modernize the education sector to service a rapidly changing jobs ecosystem? So far, meager budget allocations, outdated national schemes, and confused policy-making do not signal optimism.
On the flip side, though, are new and niche opportunities for investing in India's growth – as technology and innovation facilitate new entrepreneurial platforms for the huge education and skills development market.
In this article, we discuss the general structure of India's education system before delving deeper into foreign investment opportunities in what is plainly categorized as the unregulated domain.
FDI rules in regulated education sector favor non-profits
Education in India is divided into the regulated and unregulated sectors.
Entry into the regulated sector is currently unviable in India. While 100 percent foreign direct investment (FDI) is allowed under the automatic route in foreign universities, it is applicable only for non-profit institutions established under Section 8 of the The Companies Act, 2013.
A Section 8 company can be established to promote commerce, art, science, sports, education, and research, among other areas, but can apply its profits, if any, or other income only for the promotion of its objects; it cannot make dividend payments to its members.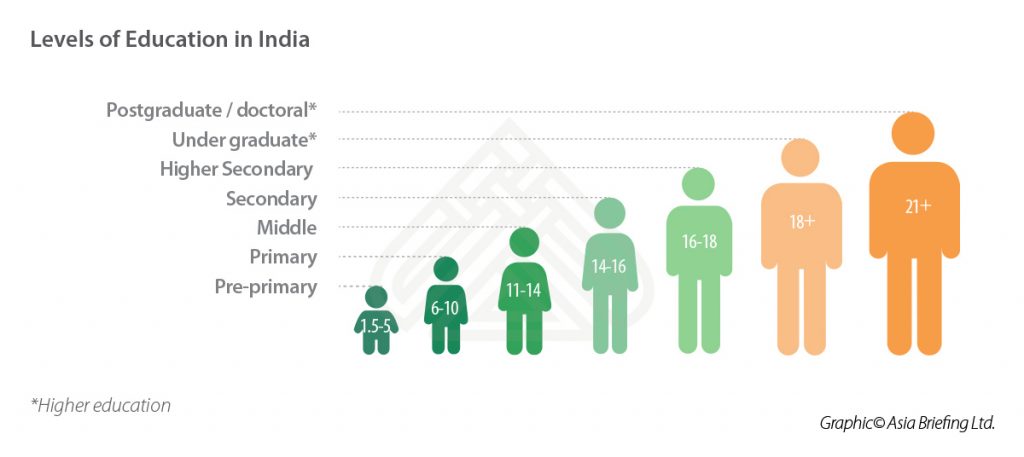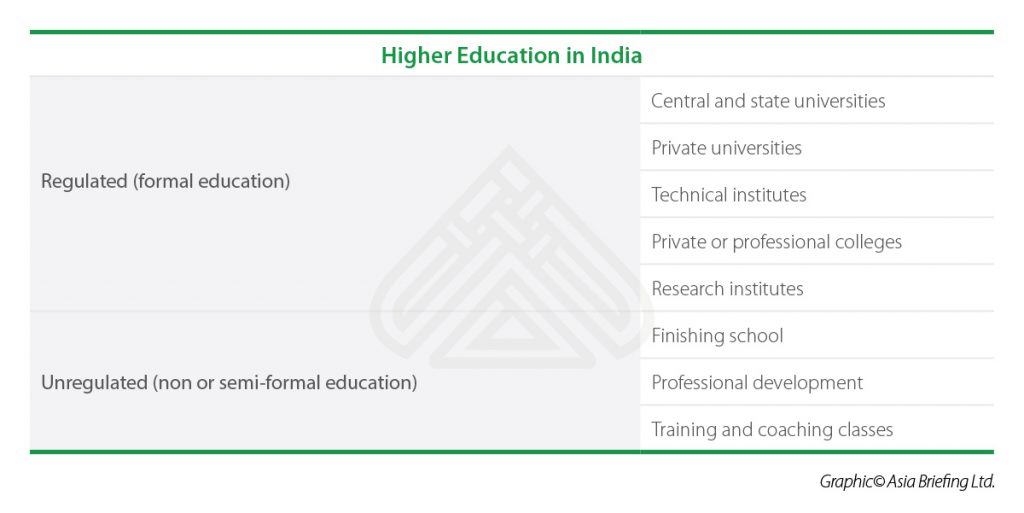 Setting up a foreign private university in India
The federal regulator, University Grants Commission (UGC) lays out strict guidelines for setting up a foreign private university in India.
Must be a non-profit institution – which implies no repatriation of funds;
Must be certified as a 'foreign education provider' by the UGC;
Must be in the top 400 global rankings from the UK-based Times Higher Education Ranking, the Quacquarelli Symonds ranking, or the China-based Shanghai Jiao Tong University rankings;
Must maintain a corpus of US$3.7 million (Rs 25 crore) with the Ministry of Human Resource Development; and,
Must be in existence for at least 20 years and accredited by an agency of the host country or an internationally accepted system.
These regulations do not leave much incentive for foreign universities to establish their satellite campuses or international branches in India.
The Modi government attempted to ease existing rules by reintroducing the Foreign Educational Institutions (Regulations of Entry and Operations) Bill, 2010 in parliament, which was ultimately rejected.
Thus, government sponsored or funded universities and institutions dominate the regulated education sector in India.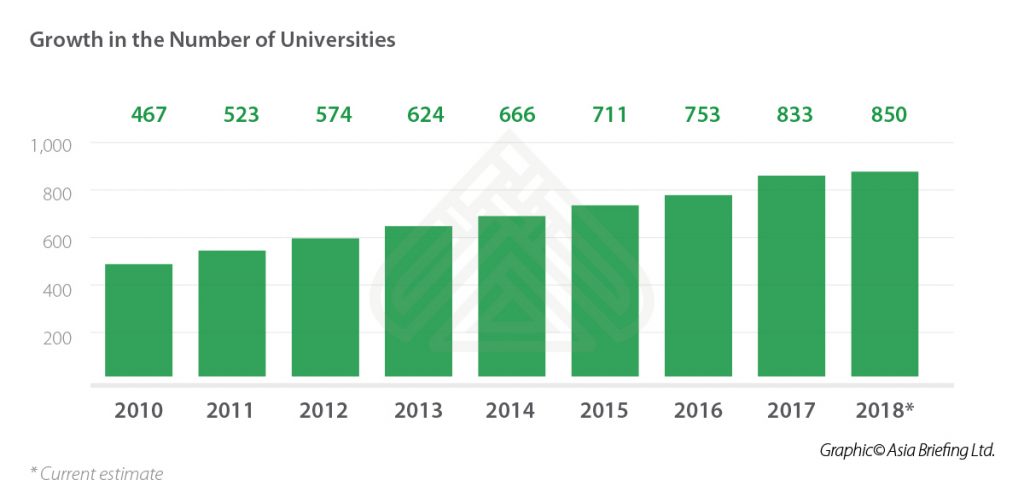 Unregulated education sector open to foreign investors
Investment in India's unregulated education sector amounts to over US$1.7 billion (Rs 12,000 crore) in the last decade.
Over 160 foreign universities are currently working in collaboration with Indian institutions by establishing different types of institutes, which are registered as private or public companies.
The nature of jobs in today's industry is changing due to the application of digital technologies, creating new entrepreneurial segments within the education sector.
Demand in India's education market is huge, and foreign investors can tap into the gaps between education provided in the country's formal institutions on one hand, and actual skilling needs for the rapidly transforming job market, on the other.
Setting up vocational training institutes
Indian students are increasingly looking to skill-based educational qualifications to improve employability. This has led to perpetual growth in the demand for skill-based and technical training in India.
Foreign institutions and universities are beginning to cater to this growing segment by collaborating with an Indian institution or by setting up a skilling institute, leading to the award of graduate, postgraduate, diploma, and post diploma degrees.
These institutes have to follow the regulatory guidelines set down by All India Council for Technical Education (AICTE).
Twinning programs gaining traction
These are voluntary and reciprocal agreements between educational institutions in different countries. The UGC's foreign collaboration regulations govern these collaborations. Students in these programs complete a part of their course in India and partly in a foreign-based partnership institution.
India requires the signing of a Memorandum of Understanding (MoU) between these institutes for clear guidelines. Members of the local education authority, such as the Department of School Education and Literacy, must be present along with media personnel when the official documents, stating the bylaws of the program, are signed.
Several Indian universities have twinning programs with foreign universities. For instance, Manipal University, in the state of Karnataka, has signed MoUs with the University of Illinois Urbana Champagne, Drexel University, and The State University of New York at Buffalo and Vellore Institute of Technology, in the state of Tamil Nadu, has MoUs with Purdue University and Queen Mary University, among others.
Education services a new lucrative subsector
Tie-ups between foreign and Indian institutes to provide expertise and faculty for teaching, curriculum building, and organizing student and teacher exchange programs are becoming more attractive.
These programs allow students or teachers to spend a couple of weeks to a semester in a foreign university where fees for the period is paid to the hosting university.
Tutoring services is a strong parallel education sector with large growth potential. In India, 87 percent of primary school children and 95 percent of high school students in urban areas opt for private tutoring services, which point to the huge market for higher education tutoring as well. Already 20 percent of students enrolled in higher education opt for private tuition; with competition for postgraduate studies and jobs intensifying in India, this number is expected to increase rapidly.
Growing at a rate of 35 percent annually, India is also emerging as a global leader in providing e-learning tutoring solutions. Foreign institutions can collaborate with Indian businesses in this subsector to leverage the global market.
Distance learning programs and online learning solutions are also becoming popular in India, and are expected to create a US$1.96 billion market by 2021. Currently, there are approximately 1.6 million users availing online education in India.
Distance education is regulated by the Distance Education Council established under the Indira Gandhi National Open University Act, 1985. Foreign investors should note that certain sector specific laws might also apply. For example, 14 statutory professional councils exist in India that regulate courses related to areas such as medicine, law, and architecture.
Source: https://www.india-briefing.com/news/investing-indias-higher-education-sector-17082.html/
Tags: #smallcapstocks, $TSXV, CSE, education, india, online education