(TSXV: ICM) (OTC Pink: BVTEF) (FSE: YQGB)
Why Iconic Minerals?
Bonnie Claire Lithium property hosts 11.8 Billion pounds of lithium carbonate equivalent (28.5 Million tonnes of LCE) Inferred Resource (43-101).
Potential to be the largest lithium resource globally (based on size)
Initial leaching tests applying dilute acid to the drill cuttings resulted in recoveries as high as 98%.
Two other highly prospective Lithium exploration properties also located in Nevada.
---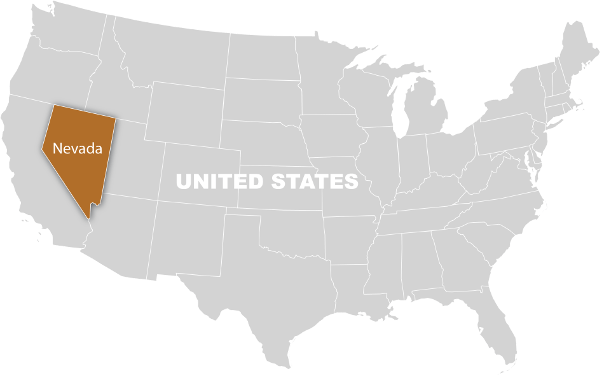 Lithium Projects
Iconic Minerals has three highly prospective Lithium exploration properties located in Nevada, the Bonnie Claire Sarcobatus Valley Lithium property, the Smith Valley Creek Property, and the Third Nevada Lithium Property.
Bonnie Claire Property
Property Overview
11.8 Billion pounds of lithium carbonate equivalent (28.5 Million tonnes of LCE) Inferred Resource (43-101).
Potential to be the largest lithium resource globally (based on size)
Bonnie Claire is a 100% owned lithium brine property comprising of 23,100 acres of contiguous placer claims, currently in control of 28.75 square miles (75 km2) located in Nye County, Nevada.
Property area is contained within a valley that is 60kms from the only producing lithium mine in North America (Albermarle Silver Peak Mine).
Over +20 miles (+30 km) long and 12 miles (20 km) wide into which streams from an +800 mi2 (2,070 km2) drainage basin empty.
Sampling of salt flats within the basin, have found lithium values in salt samples yielding up to 340 ppm.
Current claim block covers the gravity low and associated mud flats that could be used for evaporation ponds if significant lithium brines are discovered in drilling.
Preliminary NI 43-101 Technical Report completed Read More
A total 5,550 feet has been drilled at the Bonnie Claire with an average 963+ppm from four drill holes
Great infrastructure
Local end-users
---
Property Details Snapshot

---
Drainage Basin (20 x 30 kms)
830 square miles
Gravity Lows (length)
20 x 30 kms
Valley Sediment (Range)
460 – 610m (1,500 to 2,000ft)
BLM Drilling Permits
Drilling Program
Drilling completion of first of three test wells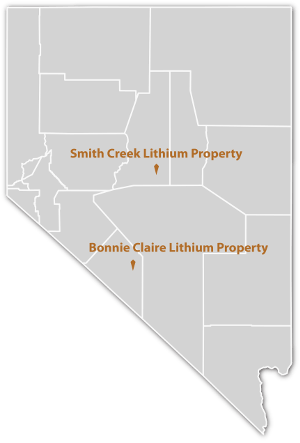 Smith Creek Valley Property
Controls 808 placer claims totaling 25.25 square miles (65.4 km2) over a major gravity low.
The enclosed Smith Creek Valley Basin covers 582 square miles (1,507 km2), which is slightly larger than Clayton Valley Basin where lithium brines are produced.
Smith Creek Valley is over +40 miles (+64 km) long in a north-northeast direction and averages 9 miles (14.5 km) in width.
The vast majority of rock weathering into the basin is felsic ash flow tuff, which is an excellent source of lithium.
Lithium Brine Benefits
Lower Cost Exploration
Easy access because flat and arid
Decreased environmental impact
Shorter Timeline to Production
Requires Less Capital
Lower Cost Production than bedrock
Found beneath salt flats in brine bearing aquifers
Easily pumped to Surface from vertical production well
After evaporation lithium recovered in small on site mill
Potassium may also be recovered
Nevada is a Geopolitically Stable Jurisdiction
Gold Projects
The company's Gold exploration portfolio includes the Hercules property in the Como mining district, 17 kms from the famous Comstock Lode mine, the New Pass property in the New Pass mining district, and the Squaw Creek property located in the northern area of the Carlin Trend.
Gold Properties
Situated within and on the margins of the Como mining district, located in Lyon County, Nevada.
Como district was worked as early as the late 1850s, before the famous Comstock Lode deposit was discovered about 10 miles (16 km.) to the north by prospectors following float upstream from placer gold deposits at Dayton.
By the early 1860's the Como district was abandoned due to the rich lodes having been discovered at Virginia City (Russell, 1981).
In the late 1880's the Hercules Mining Company explored the occurred with the excavation of another 1,500 feet (450 m) of underground workings.
Gold and silver property which, is comprised of 107 unpatented lode mining claims (2,231 acres).
The property is located in eastern Churchill County, Nevada; in the New Pass Mining District, 27 miles west of Austin, Nevada and 105 miles east of Reno.
Iconic Minerals has a controlling interest in the property, in a joint venture with White Knight Gold U.S. Inc., (now U.S. Gold), with Iconic earning a 50% interest.
Property is located 42 miles due north of Battle Mountain, Nevada and lies between the Midas and Ivanhoe mining districts on the northern portion of the Carlin Trend, six miles north of the Dee Mine in the Lower Plate Bootstrap Window. Iconic's Research and Development partner
St-Georges' metallurgists report that they have successfully improved the concentration of lithium in the Sediments, originally reported in December using mechanical separation and selective leaching of other elements within the Sediments.
The additional tests St-Georges completed in Stage 2, through selective leaching methods, have improved the elimination of barren material from 55% to 85%-88%, while retaining 100% of the lithium.
Upon completion approximately 12% to 15% of the original material remains for further processing and purification. This process may significantly reduce the cost of production.
Lithium also leachable by water
Tags: clean energy, green energy, lithium], tsx