Labrador Gold is aggressively pursuing the under explored gold potential of Labrador.
2 large, separate, under-explored land packages that demonstrate potential for district scale gold discoveries.
Two successful gold explorers lead the way in the Labrador gold rush: Shawn Ryan and Roger Moss.
2 Key Exploration Properties: Hopedale and Ashuanipi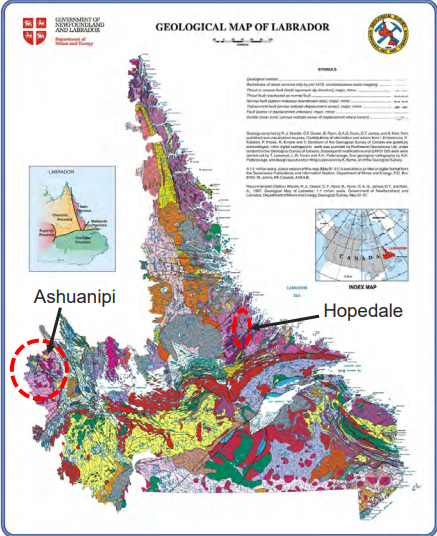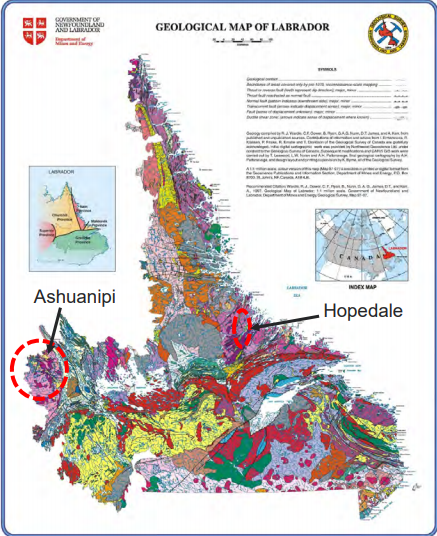 Hopedale: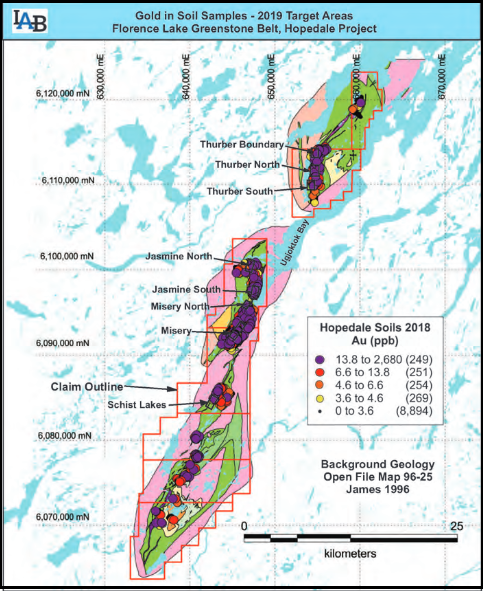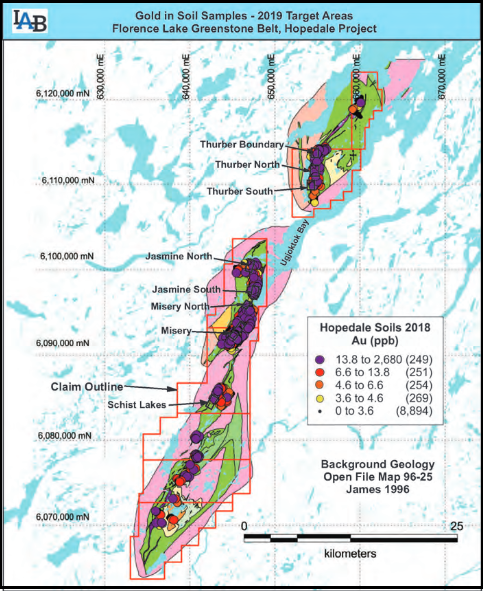 The Hopedale property covers much of the Hunt River and Florence Lake greenstone belts that stretch over 80 km. The belts are typical of greenstone belts around the world but have been underexplored by comparison. Initial work by Labrador Gold during 2017 show gold anomalies in soils and lake sediments over a 3 kilometre section of the northern portion of the Florence Lake greenstone belt in the vicinity of the known Thurber Dog gold showing where grab samples assayed up to 7.8g/t gold. In addition, anomalous gold in soil and lake sediment samples occur over approximately 40 kilometres along the southern section of the greenstone belt (see news release dated January 25th 2018 for more details). Labrador Gold now controls approximately 57km strike length of the Florence Lake Greenstone Belt.
Ashuanipi:
Two district scale gold anomalies outlined by soil and lake sediment survey: 15x3km north south anomaly and a 14 x 3km east west anomaly
2018 Soil Sampling identified: 164 samples with over 50 ppb gold, 67 samples over 100 ppb (0.1g/t) gold and a high of 8,973 ppb (8.97 g/t) Au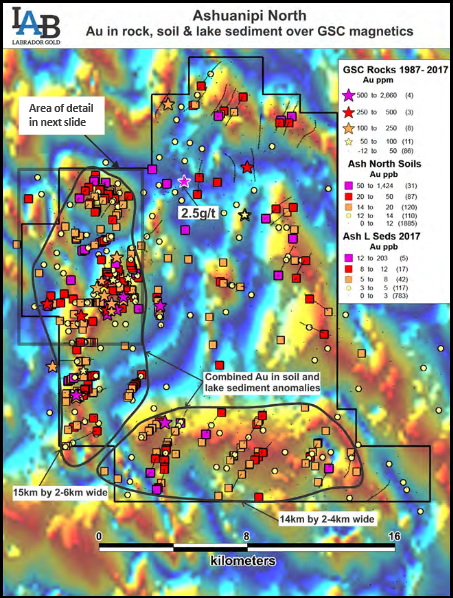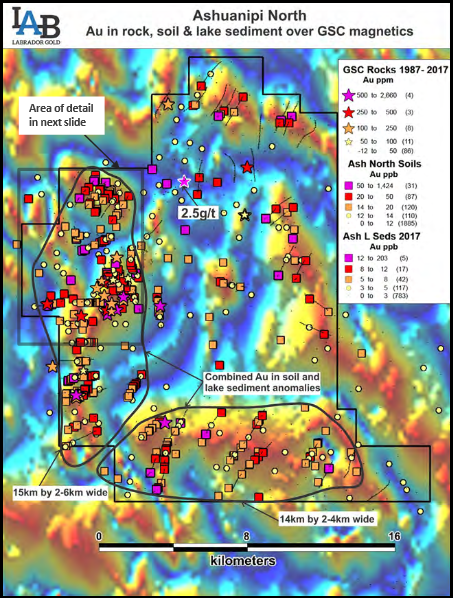 The Ashuanipi gold project is located just 35 km from the historical iron ore mining community of Schefferville, which is linked by rail to the port of Sept Iles, Quebec in the south. The claim blocks cover large lake sediment gold anomalies that, with the exception of local prospecting, have not seen a systematic modern day exploration program. Results of the 2017 reconnaissance exploration program following up the lake sediment anomalies show gold anomalies in soils and lake sediments over a 15 kilometre long by 2 to 6 kilometre wide north-south trend and over a 14 kilometre long by 2 to 4 kilometre wide east-west trend. The anomalies appear to be broadly associated with magnetic highs and do not show any correlation with specific rock types on a regional scale (see news release dated January 18th 2018). This suggests a possible structural control on the localization of the gold anomalies
FULL DISCLOSURE: Labrador Gold is an advertising client of AGORA Internet Relations Corp.
Tags: #Ashuanipi, #Discovery, #Drilling, #Greenstone, #Hopedale, #LAB, #Labrador, #LabradorGold, #Newfoundland, #Plethora, #PreciousMetals