American Creek Resources Ltd. (TSXV: AMK) is positioned to take full advantage of the precious metals bull run that many experts believe we are only in the early stages of.
Image of the Goldstorm Zone found along the base of this hill at Treaty Creek.
With approximately one billion tonnes of gold enriched rock identified (potential for a resource calculation in 2020), the Goldstorm has potential to become a world class gold deposit.
The 2020 drilling is designed to significantly expand the deposit as the system is open to the north, the east and at depth.
The company raised over $3.3 million to strengthen existing alliances and create a number of new strategic relationships, bringing strength, credibility and future increased exposure.
Eric Sprott made two separate investments of $1,000,000 into American Creek. Mr. Sprott is the largest external investor in Treaty Creek. He recently stated that he is "very excited about the opportunity there as the project has a great shot at having 20 million ounces."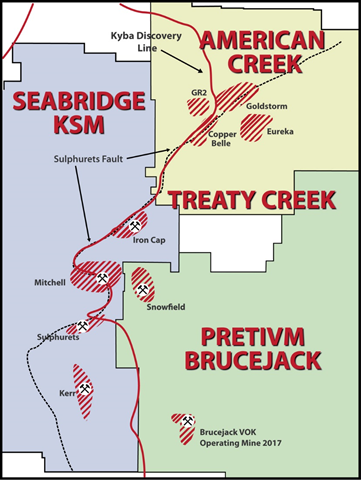 If you have not yet read the 2019 REPORT ON TREATY CREEK (potential world-class deposit in B.C.'s GOLDEN TRIANGE) click on the image for the full report.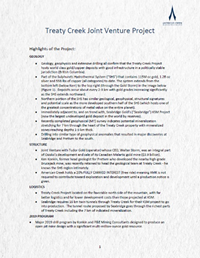 The Treaty Creek Project is a joint venture with Tudor Gold owning 3/5th and acting as project operator. American Creek and Teuton Resources each have a 1/5th interest in the project. American Creek and Teuton are both fully carried until such time as a Production Notice is issued, at which time they are required to contribute their respective 20% share of development costs. Until such time, Tudor is required to fund all exploration and development costs while both American Creek and Teuton have "free rides".
About American Creek
American Creek is a Canadian mineral exploration company with a strong portfolio of gold and silver properties in British Columbia. Three of those properties are located in the prolific "Golden Triangle"; the Treaty Creek and Electrum joint venture projects with Tudor Gold/Walter Storm as well as the 100% owned past producing Dunwell Mine.
More information about the Treaty Creek Project can be found here: https://americancreek.com/index.php/projects/treaty-creek/home
An exploration program is ongoing on American Creek's 100% owned Dunwell Mine property located near Stewart. More information can be found here: https://americancreek.com/index.php/projects/dunwell-mine
The Corporation also holds the Gold Hill, Austruck-Bonanza, Ample Goldmax, Silver Side, and Glitter King properties located in other prospective areas of the province.
For further information please contact Kelvin Burton at: Phone: 403 752-4040 or Email: [email protected]. Information relating to the Corporation is available on its website at www.americancreek.com
FULL DISCLOSURE: American Creek is an advertising client of AGORA Internet Relations Corp.
Tags: #BC, #BruceJack, #copper, #Discovery, #Drilling, #goldentriangle, #HighGrade, #KenKonkin, #Mine, #Ounces, #SII, #sprott, #TUD