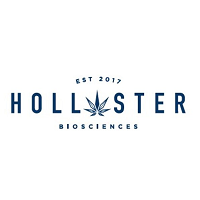 HIGHLY ACCRETIVE $20,000,000 ACQUISITION
Venom Highlights
2019 Est Revenue ~C$16.4M; EBITDA ~C$2.48M
30% Of Acquisition Price Paid If Venom Revenues Hit $30,000,000 and $40,000,000 By DEC 31, 2021
Average revenue per gram YTD 2019 $CDN 14 and will continue to increase as vape cartridge mix grows ($CDN 30 per gram)
One Of Arizona's Largest Producers Of Award-Winning Medical Cannabis Distillate
Acquisition Expected To Close By March 31, 2020 Subject To Due Diligence
An established brand in Arizona for high quality products in the wholesale and distillate marketplace. Venom is leveraging its brand and success to aggressively expand into other US states.
ACQUISITION TERMS
Hollister will acquire Venom Extracts for CDN$20,000,000 via Hollister stock
The stock price will be determined based on the greater of:

The 14-day VWAP (Volume Weighted Average Price) capped at $0.25 subsequent to announcing the transaction and $0.20
Once share price is established, 70% of the Payment Shares will be issued upon closing of the transaction
Remaining 30% of the Payment Shares will be issued when and if the following milestones have been met on or prior to December 31st, 2021
Per State Cash Flow Expectations
Planned State Additions
FIND OUT MORE!
Hub On AGORACOM / Corporate Profile / Read Release
FULL DISCLOSURE: Hollister Biosciences Inc. is an advertising client of AGORA Internet Relations Corp.
Tags: Cannabis, CBD, CSE, Hemp, Marijuana, stocks, tsx, Venom, Venom Extracts