LN:TSX
3.6 Million High Grade Gold Ounces in the Congo
Imbo Concession: Loncor controls 76.29% of the Imbo Project.
3 Seperate Deposits:
Adumbi, Kitenge and Manzako comprise 2.5 million ounces of gold
30.65 million tonnes grading 2.54 g/t Au
76.29% of the gold resource is attributable to Loncor via its 76.29% interest in the Imbo Project.
2020 Exploration Strategy:
Increase the mineral resources on the Imbo Project by undertaking additional drilling
Initiate Preliminary Economic Assessment on the Adumbi deposit.

Increase and upgrade mineral resources within the open pit
Develop underground potential, mineralization remains open at depth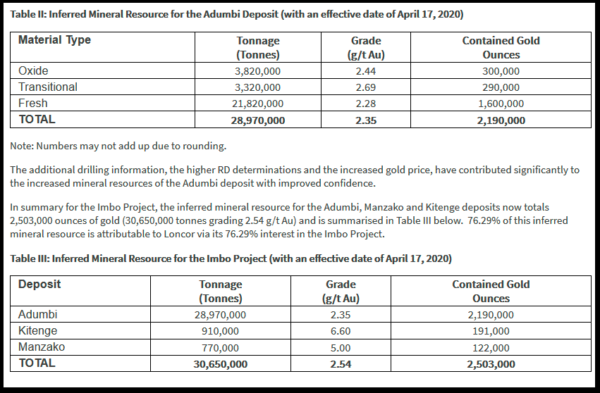 Makapela Project, NGAYU Belt: (100% Loncor Owned)
Indicated mineral resource of 614,200 ounces of gold

(2.20 million tonnes grading 8.66 g/t Au)

Inferred mineral resource of 549,600 ounces of gold

(3.22 million tonnes grading 5.30 g/t Au).
Barrick JV in the NGAYU Belt:
Ngayu Belt is 200km southwest of the Kibali gold mine, operated by Barrick Gold

Kibali produced 814,000 ounces at "all-in sustaining costs" of US$693/oz 2019
Barrick highlighted the Ngayu Greenstone Belt an area of particular exploration interest
Barrick earns 65% of any exploration discovery in 1,894 km2 of Loncor ground in the JV.

Barrick manages and funds exploration until the completion of a pre-feasibility study on any gold discovery meeting the investment criteria of Barrick.
Barrick highlighted 6 signifcant drill targets and is moving toward drilling in 2020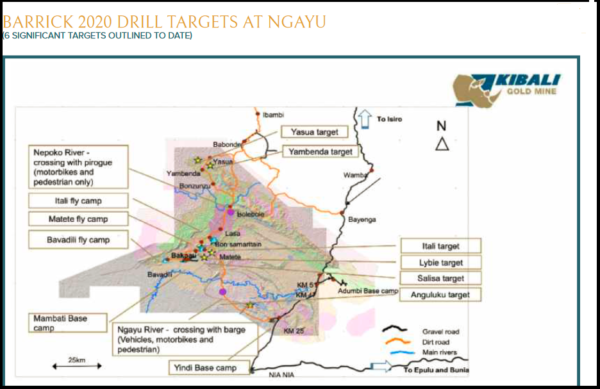 Loncor Resources Inc.
Loncor a Canadian gold explorer controlling over 3.6 million high grade ounces outside of a Barrick JV in the DRC. The Ngayu JV property is 200km southwest of the Kibali gold mine, operated by Barrick, which produced 814,000 ounces of gold in 2019. Barrick manages and funds exploration at the Ngayu project until the completion of a pre-feasibility study on any gold discovery meeting their Tier One investment criteria. Newmont $NGT $NEM owns 7.8%, Resolute $RSG owns 27%, Loncor Management owns 29%
Tags: #19$Gold, #321Gold, #Assay, #Barrick, #Congo, #Crescatcapital, #Discovery, #DRC, #Drilling, #leadership, #Loncor, #NewmontGold, #Ngayu, #TaviCosta