SPONSOR: Lomiko Metals is focused on the exploration and development of minerals for the new green economy such as lithium and graphite. Lomiko owns 80% of the high-grade La Loutre graphite Property, Lac Des Iles Graphite Property and the 100% owned Quatre Milles Graphite Property. Lomiko is uniquely poised to supply the growing EV battery market. Click Here For More Information

The study commissioned by DeepGreen examines how we can source the massive amount of mineral resources required for a wholesale move away from fossil fuels with the least amount of damage to the planet.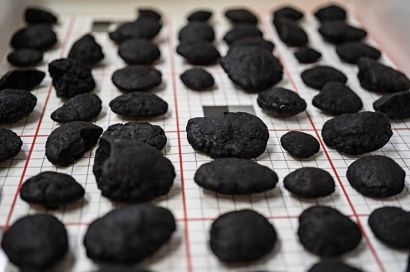 As calls for a transition to renewable energy and electric transport grow louder in the face of increasing global climate chaos, demand for certain EV battery metals is projected to increase by 11 times the current level by 2050, according to the World Bank, with shortages in nickel, cobalt and copper predicted to emerge as soon as 2025.
The first-of-its-kind LCSA study provides an in-depth comparison of the cradle-to-gate impacts of producing metals from land ores and polymetallic nodules, both sources of the nickel, cobalt, copper and manganese required to build one billion EV batteries. The researchers examine the relative impacts of the extraction, processing and refining of these key base metals on several impact categories, including: greenhouse gas emissions and carbon sequestration, ecosystem services, non-living resources and habitats, biodiversity, human health and economics.
"The purpose of this in-depth research effort is to provide a substantive look into the impacts of different sources of the critical battery metals that make up the bedrock of the clean energy economy" said DeepGreen Chairman and CEO Gerard Barron. "The scale of the green transition is monumental, and the timeline is daunting. For Earth Day's 50th anniversary let's go deeper than mere calls for renewable energy and electric transport and have an honest conversation about the resources required to get us there. We believe that polymetallic nodules are an important part of the solution. They contain high concentrations of nickel, cobalt and manganese – they're effectively an EV battery in a rock."
Gerard Barron, DeepGreen Chairman and CEO, added that ocean nodules are a unique resource to consider at a time when society urgently needs a good solution for supplying new virgin metals for the green transition and that extraction of virgin metals – from any source – is by definition not sustainable and generates environmental damage. This means there is a responsibility to understand the benefits – as well as the damages associated with sourcing base metals from nodules.
Polymetallic nodules are made of almost 100 percent usable minerals and contain no toxic levels of deleterious elements, compared to ores mined from the land which have increasingly low yields (often below 1 percent) and often do contain toxic levels of deleterious elements. This means that producing metals from nodules has the potential to generate almost zero solid waste and no toxic tailings, as opposed to terrestrial mining processes which produce billions of tonnes of waste and can leak deadly toxins into soil and water resources.
Based on a relative impact assessment of land ores and ocean nodules, the researchers find that nodule collection and processing can deliver a 70 percent reduction in carbon dioxide equivalent (C02e) emissions, 94 percent reduction in stored carbon at risk, 90 percent reduction in SOx and NOx emissions, 100 percent less solid waste, 94 percent less land use, 92 percent less forest use and zero child labour, among other benefits.
"Over the last 5 years there has been heightened awareness of the environmental, social and economic impacts of producing metals from land ores" said one of the whitepaper's lead researchers, marine biologist and ecologist Dr. Steven Katona. "We essentially built on existing lifecycle assessment indicators work for land-based mining and created an apples-to-apples comparison for battery material production from ocean nodules. This unique comparative LCSA enables auto manufacturers, technology companies and policy makers to understand how these different sources of key base metals measure up against each other with regards to their impacts."
While the deep seabed is a food-poor environment with limited biomass, uncertainties remain over the nature as well as temporal and spatial scales of impacts from nodule collection on deep-sea wildlife. The study provides the broader context for a deeper, multi-year environmental and social impact assessment (ESIA) being conducted by DeepGreen, in what the company says will be the largest integrated seabed-to-surface deep-ocean science programme ever conducted, with over 100 separate studies being undertaken. DeepGreen has partnered with three pacific island states for deep-sea environmental studies, mineral exploration and project development. Through these relationships with the Republic of Nauru, the Republic of Kiribati and the Kingdom of Tonga, DeepGreen has exclusive rights under the International Seabed Authority to explore for polymetallic nodules in regions of the Clarion Clipperton Zone of the Pacific Ocean.
In recent months DeepGreen has continued its push to disrupt the minerals industry and re-shape how critical battery metals are sourced, processed and ultimately recycled, through several key milestones. In October DeepGreen derived its first metal from polymetallic nodules in a processing lab, and in March, the company's partner Allseas acquired a former drill ship to convert to a polymetallic nodule collecting vessel.
Earlier this month the company announced the acquisition of Tonga Offshore Mining Limited (TOML), giving DeepGreen access to a third seabed contract area in which to explore for battery metals with significantly lower environmental and social impact. As part of its commitment to develop these resources, which are defined as the 'Common Heritage' of Humankind, DeepGreen is committed to full transparency, has pledged to share all knowledge generated and is currently involved in a global stakeholder engagement process.
Source: https://www.renewableenergymagazine.com/electric_hybrid_vehicles/new-study-examines-impacts-of-different-sources-20200422
Tags: #Anode, #Battery, #Carbon, #Demand, #Electric, #graphite, #High-Grade, #Imerys, graphene