American Creek has broken out technically and is at a 52 week high
Has not seen this price since 2011
Gold Bull Market accelerating toward $1900 driving AMK
Third Drill onsite accelerating drilling production at Treaty Creek
World Classs Asset being developed
Located next to the world's largest undeveloped gold deposit by reserves in B.C.'s Golden Triangle (KSM)
2020 Drill Holes have already been shipped to the lab for assays.
American Creek has a Fully Carried 20% Interest in the Treaty Creek Project
The currently known length of the northeast axis of the Goldstorm system is 850 meters and the southeast axis is 600 meters by 700m depth. 
Mineralization depth in the north continues to 1,200m
The system remains open in both directions and in depth  
The total size of this mighty gold system has expanded significantly with each step-out borehole  
The richest mineralization at 'Treaty Creek' starts near the surface extending to a 300m depth
The gold system is open on all sides and the geology and geophysics indicate a much larger system than has been defined. Â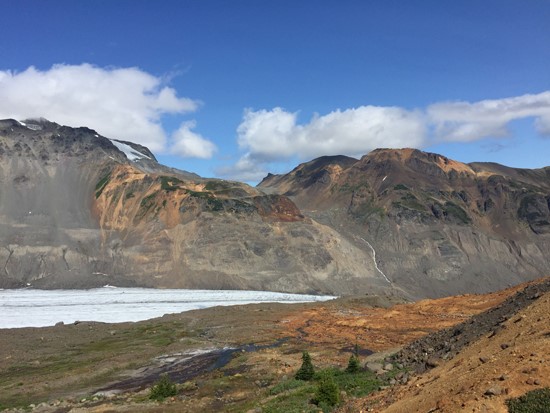 The Treaty Creek Project is a Joint Venture with Tudor Gold owning 3/5th and acting as operator. American Creek and Teuton Resources each have a 1/5th interest in the project creating a 3:1 ownership relationship between Tudor Gold and American Creek. American Creek and Teuton are both fully carried until such time as a Production Notice is issued, at which time they are required to contribute their respective 20% share of development costs. Until such time, Tudor is required to fund all exploration and development costs while both American Creek and Teuton have "free rides".
World Classs 2019 Drill Results:
Drill hole GS19-42: 0.849 g / t Gold Eq over 780 meters including 1.275 g / t Gold Eq over 370.5 meters in the 300 Horizon section;
Hole GS19-47: 0.697 g / t Gold Eq over 1,081.5 meters including 0.867 g / t Gold Eq over 301.5 meters in the 300 Horizon section;
Drill hole GS19-52: 0.783 g / t gold Eq over 601.5 meters incl. 1.062 g / t gold over 336.0 meters in the 300 Horizon section;
Hole GS19-48: 0.793 g / t Gold Eq over 927.0 meters;
Hole GS19-49: 0.800 g / t gold Eq over 826.5 meters including 1.080 g / t gold over 249 meters;
Hole GS19-50: 0.681 g / t Gold Eq over 577.5 meters; Hole CB-18-39: 1,086 g / t Gold Eq over 563.8 meters
Proximity to KSM:
Seabridge Gold is the adjacent neighbor to Tudor Gold's Treaty Creek project and plans to bring the "KSM project" into production with an initial cost of capital of $5.4 billion est.
Tudor's Treaty Creek project is significantly closer to key infrastructure such as highway and electricity than its neighbor Seabridge Gold.

Lower capital costs to build a mine at Treaty Creek is advantageous over SEA.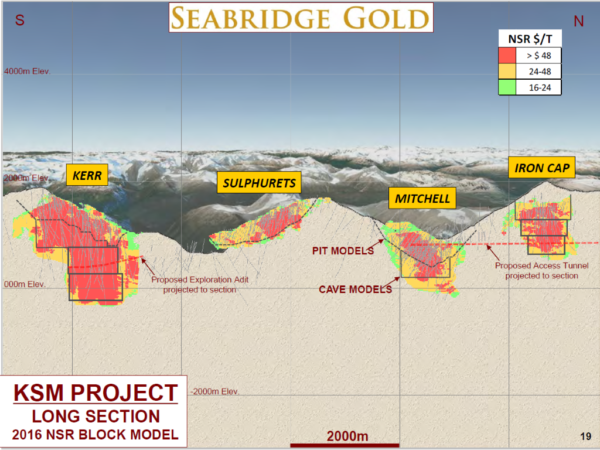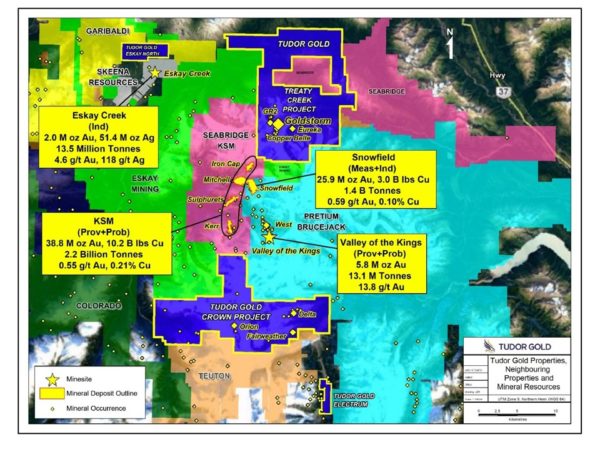 About American Creek
American Creek is a Canadian junior mineral exploration company with a strong portfolio of gold and silver properties in British Columbia. Three of those properties are located in the prolific "Golden Triangle"; the Treaty Creek and Electrum joint venture projects with Tudor Gold/Walter Storm as well as the 100% owned past producing Dunwell Mine.
For further information please contact Kelvin Burton at: Phone: 403 752-4040 or Email:

[email protected]

. Information relating to the Corporation is available on its website at www.americancreek.com
Tags: #BC, #copper, #Crescat, #Discovery, #Drilling, #goldentriangle, #HighGrade, #KenKonkin, #Mine, #Ounces, #SII, #sprott, #TaviCosta