If you haven't heard about American Creek's involvement in the massive gold discovery at The Treaty Creek Project in BC's Golden Triangle, this quote from JV operator Tudor Gold's Vice President of Exploration and Project Development, Ken Konkin, P.Geo says everything you need to know:
"This system has proven to be much larger than we previously expected and, combined with our recent discoveries at Perfect Storm, Eureka and Calm Before the Storm, gives this Project un-paralleled economic potential as one of the largest gold projects in the world.
"Largest Gold Projects in the world". Let that sink in.
These intercepts demonstrate the true world class nature of the Goldstorm deposit, a deposit that is still growing and open in all directions:
0.97 G/T Gold EQ Over 1,320M, Including 1.38 G/T Gold Eq Over 556.5m, Ending In Mineralizatition
4.07 g/t AuEq over 78.0 m, within 459.0 m of 1.30 g/t AuEq
1.38 g/t AuEq (including 0.49%Cu and 6.27 g/t Ag) over 556.5 m, and contains higher grade mineralization averaging 2.34 g/t AuEq (including 0.71 % Cu and 17.64 g/t Ag) over the last 57.0 m of the hole. The drillers had to abandon the hole at 1,575.0 m, as the drill was at its maximum limit.
Results like these are exceedingly rare in a world that is starved for major discoveries.
To date, the Treaty Creek project now has 4 areas of merit that require follow up drilling in 2022, each with their own potential to compete with the enormous potential being demonstrated at Goldstorm.
The Treaty Creek project is in the Golden Triangle on one of the largest hydrothermal systems in the world. The "Sulphurets Hydrothermal system" supports numerous world scale deposits, including the high-grade Brucejack mine (opened 2017 by Pretivm) and Seabridge's KSM which boasts the largest undeveloped gold deposit by reserves in the world.
The southern half of the system contains 188m oz gold, 1.2 bn oz silver, 55bn lbs. copper in resources.
American Creeks Treaty Creek project is a Joint Venture. Tudor Gold owns 3/5th, is the operator and controls all costs associated with development and discovery. American Creek owns 20% and is fully carried until a "Production Notice" is issued and benefits from a "free ride" on any discovery, or discoveries made, to which there is one to date.
In March the 1st the very first resource calculation was released for the Goldstorm deposit. It is true world class, opening with 19.4m ounces of gold equivalent in Indicated and 7.9m Inferred. The potential to grow with further drilling is clearly being demonstrated and results now coming in point to much much more mineralization being discovered.
Eric Sprott said it best: Last Year Eric Sprott said the following about the Goldstorm Deposit on Treaty Creek:
"It certainly looks like they have 20 million ounces and they could easily get to 30 or 40 or 50 million ounces (of gold)" Eric Sprott, July 24, 2020
Check out what Ken Konkin, the VP of Exploration and Project Development has to say about this global scale asset: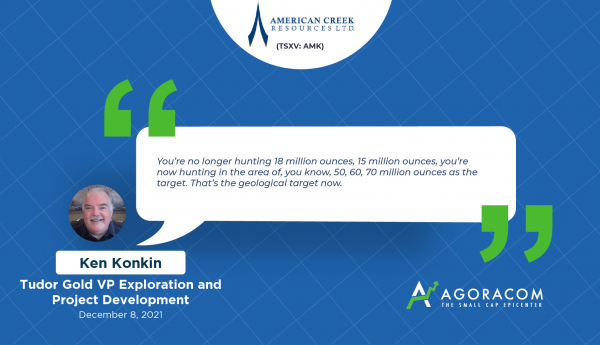 16:38: "Goldstorm will be a mine. It will be a mine, in my opinion."
21:00: "you're no longer hunting 18 million ounces, 15 million ounces, you're now hunting in the area of, you know, 50, 60, 70 million ounces as the target, that's the geological target now."
21:50:    "it's absolutely mind-boggling what the potential is" 
7:38: "Our best targets, by the way, have yet to be drilled on Goldstorm"
4:21: "We still haven't missed a single hole on the project, other than one"
13:58:    "It's almost overwhelming at the amount of targets we've got"