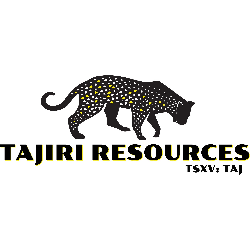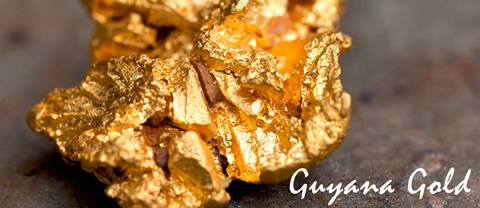 Tajiri Resources Corp. (TAJ.V) is exploring for world class gold deposits in Guyana
If you like companies whose management has a track record of gold discoveries, Tajiri is your company. Having already discovered around 20 million ounces through discoveries in Burkina Faso and…Guyana, where a high percentage of ythe ounces have been discovered.. Right where Tajiri is situated. Astute management acquired The Gargantuan and The Epeius-Kaburi Project where each show promise for a gold discovery.
The aptly named Gargantuan project was acquired due to its huge Artisanal mining footprint. Small gold miners have worked for the free, easy gold for over a hundred years. No one has found the source for all this gold.
Tajiri plans on changing that.
The Epeius-Kaburi Project is within a corridor of highly prospective ground adjacent to Troy's Karouni Mine (discovered by Tajiri founder Dominic O'Sullivan) and put into production in 2017. They also have the Ohio Creek discovery that borders the Tajiri project area. Tajiri has many drill targets planned adjacent to significant drill intercepts along the property border with Troy, who have drilled holes as close as 5 meters from the property line.
Tajiri is a fundamentally strong exploration company with 2 properties in Guyana that could each wield major discoveries, supported by a management team that have a track record of discovering gold in Guyana.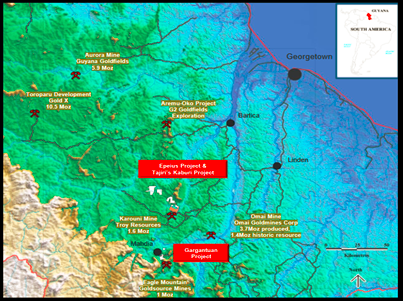 3 Reason Why Tajiri is the next SmallCap to Discover
Artisanal Mining Point Toward Larger Discovery Potential
The best place to find a large gold source is to look where its already been found. In this case the human footprint surrounding the gargantuan deposit has been around for over 100 years, believed to go as far back as 1860 and still produces a cumulative 35,000 ounces from small, independent miners. Tajiri is attempting to use this history to help in guiding where the source of the gold has come from. Until recently few had put the effort into finding where it has all come from, mostly due to the low hanging fruit effect. The gold is easy to find and there is a long history of it. Tajiri aims to find the source.
This is a classic picture analogy of a thousand words: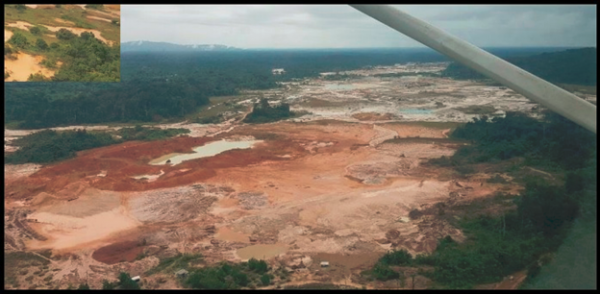 The amount of human activity required to alter the above paleochannel (where mother nature placed the gold through erosion) of the Mahdia River is staggering. Tajiri's Gargantuan Project is interpreted to host the source of the gold produced from the artisanal workings in this picture and lies at an elevation that is above the extensive alluvial workings on the Mahdia River.
2. Management Has Discovery Record of 20Moz Gold in Guyana, West Africa and Australia
Management has astutely been cornering 2 extremely promising land packages in Guyana that may lead to Tajiri founder Dominic O'Sullivan's next 20 million ounces. Dominic owns a large % of Tajiri and lives in Guyana, which plays a huge role in supporting the fundamental well-being of the company and has led to astute relationships that assisted in acquiring valuable and strategic land, at Gargantuan project as well as Epieus. A new era of gold exploration has begun for savvy investors
Through Dominic, management has invested around $2,400,000 in Tajiri since 2016 setting the stage for today by acquiring strategic land and preparing it for exploration success. The focus for the last four years has been on establishing a strong foundation for the company through acquisitions. It is early days in the gold bull and Dominic is here to stay as Tajiri is just getting started.
3. The Gargantuan and The Epeius-Kaburi Projects are Discovery Ready
The Gargantuan and Epeius –Kaburi projects set the stage for a new era in exploration, with both projects only requiring drilling to prove the value of the gold in the ground.
Gargantuan is prized for its Artisanal footprint, perhaps 4 -10 times larger than those associated with other Guiana Shield gold deposits in the 1 –10 Million-ounce range. The Gargantuan artisanal footprint is equaled by only one other, the Las Cristinas/Brisas deposit in Venezuela and that is 45 million ounces north of Gargantuan. Tajiri is clearly in the right exploration neighborhood. Guyana is host to multiple gold discoveries.
Tajiri's Gargantuan property covers 6 km of a larger 12 km mineralized footprint that borders Goldsource on both sides of the trend where they have made recent discoveries through drilling. Thanks to Goldsource, Tajiri knows that the gold bearing rock runs north south and trends onto their sides of Gargantuan with only drilling required to confirm the scale of gold in the rock.
3a. Epeius-Kaburi Project
Troy Resources is drilling on multiple areas along the company's Epeius Kaburi project border. Troy (ASX: TRY) is a small to midsize gold producer with a history of developing and operating mines. In July 2013 the Company acquired Azimuth Resources Limited which had discovered and delineated the Karouni Project in Guyana. The Company fast tracked development of Karouni with first gold production with 2017 being the first full year of production.
Why is this important? Dominic sold Azimuth that held the Karouni project to Troy.  Tajiri now owns some of the most compelling exploration ground around the Karouni Mine and Troys property.
Tajiri has an excellent chance to be able to define satellite deposits within trucking distance of Troy's mill where they are quickly running out of feed to run through it. Troy is looking for their own feed source, but due to their proximity to Tajiri's border where they are drilling in many areas, it appears that Tajiri may have something that Troy is looking for. Tajiri has the potential to discover ounces next to an operating mine as trenching is investigating an area broadly on strike from ASX listed Troy Resource's Limited's Goldstar Prospect located on the southern boundary of the Project.
The area of investigation is resolving into three zones of mineralization:
A high-grade zone: The Magic Crack Zone (or the "MCZ") which is associated with the contact of variably graphitic sediments and mafic volcanics where trenching to date has returned 2m @ 61.8 g/t Au, 1m @ 16.2g/t Au, 2m @ 9.2 Au, 2m @ 9.6g/t Au, 1m @ 4.2g/t Au and 6m @ 3.5g/t including 2m @ 8.0g/t Au over a strike length of 500m
A low-grade zone: The Pretty Ordinary Zone (or the "POZ") which is associated with a series of small felsic and microdioritic/doleritic intrusives that presents as zones 2- 20m wide variably grading between 0.1 and 0.8g/t Au with rare values >1.0g/t, along with two better intersections near the MCZ of 12m @ 2.8g/t and 9m @ 0.9g/t including 5m @ 1.5g/t. This mineralization is associated with flat to shallow dipping quartz vein sets or in the better mineralized intervals with stockwork veining in or at the margins of the intrusive. Thus, the POZ may show considerable vertical grade variation related to density of horizontal vein sets and will require drill testing.
The newly discovered on strike extensions of Troy Resources Goldstar Prospect: The Goldstar Extended Zone (or the "GETZ") which was intersected in Trench 13 and returned 12m@ 0.6g/t including 3m @ 1.0g/t and 13m@ 0.5g/t including 6m @ 1.0g/t Au. These intersections are located 880m to the northwest of and directly on strike from Goldstar where Troy has now commenced trial mining. The two zones are separated by approximately 35m across strike. Investigation of the strike continuity between Goldstar and the GEEZ will require drilling as the entirety of the strike of the GETZ between Trench 13 and Goldstar is covered by alluvium most of which has been heavily worked by artisanal miners.
Tajiri is an excellent company run by management that knows how to discover and define gold ounces for the benefit of the shareholder. It is in the company's best interest as Dominic has a track record of discovery, and big ownership in the projects he supports.
Shareholders are in excellent hands leading them into a new era of exploration in Guyana.
Click Here To Discover Why Tajiri is Poised To Capture The Gold Market's Attention