If you are a Canadian Small-Cap CEO that still doubts the power of Web 2.0 as your primary IR tool (no, your website alone is no longer sufficient) for finding new investors, communicating with all investors and converting them into shareholders, then you need to consider the fact that Canadian Prime Minister, Stephen Harper, has gone Web 2.0 in his bid to win a majority in the upcoming Canadian elections.
Specifically, Harper has moved beyond the Conservative Party website and incorporated Twitter to communicate with Canadian voters. Here is a screen shot below: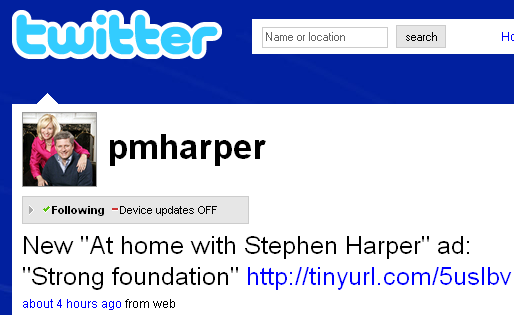 Before I go on to explain the value of Twitter, or you dismiss the idea, you should also know that the following are using Twitter:
OK, I'M CURIOUS … TELL ME MORE
So what the hell is Twitter? Twitter is a microblog – a tool that allows users to communicate with an audience via short, quick bursts of information. So short, in fact, that no entry can be more than 140 characters long.
Why would Harper, me or anyone use Twitter? Good question. Tools like Twitter and regular blogs are ideal for communications that are not big enough to require a press release – but important enough to get out to your audience (in your case, shareholders). In the process, you not only provide shareholders with even better information, you also create a tighter bond with them. After all, good communication is the basis of every good relationship.
GIVE ME AN EXAMPLE OF HOW I WOULD USE THIS

For example, you are the CEO of a small-cap public company and exhibiting at a very big industry conference in Las Vegas. You've already announced the launch of a new product via press release but want to provide investors and others with some feedback about the show without having to assemble your IR team and issue a press release. As such, you might Twitter something like this throughout the show:
—————
Monday – The team and I are setting up for show open at 10. Big lineup of people already outside. Should be a good day but will keep you posted.
Tuesday – We have been running product demos for groups of 5-10 people every 15 minutes. Reactions are good as is feedback to improve.
Wednesday AM – Nice surprise has been the fact that a couple of journalists came by to discuss the product in-depth.
Wednesday PM – Show is done for the day but we are hosting a hospitality suite this evening that should be well attended.
—————
MORAL OF THE STORY?
You don't have to use every Web 2.0 tool available to you (Blogs, YouTube, Search Engines, Twitter, AGORACOM Community, etc.) but you need to start somewhere. Why? First – on the positive side – because it is the smart thing to do. Web 2.0 IR tools are the best communication and conversion devices on the planet. They help you find new investors, communicate with them and convert them faster than anything we've seen before.
Second – on the scary side – Web 2.0 will completely envelop our lives in the next 2-3 years. You should trust me on this .. and the data supports me. You may take the web for granted but take a minute to think about how much you use the web … now multiply that by millions of investors across North America and then multiply it again by the further rate of penetration over the next 2-3 years.
Forward thinking companies are already using these tools and building their audience of investors to beat you at this game. Don't get left behind because the consequences will be disastrous.
Regards,
George