Drilling continues to encounter PGM mineralization in the Pine Zone of the River Valley PGM Deposit
Borehole PL-17-08 intersects 14m of 2.01.g/t Pd+Pt+Au, including 4m at 2.98 g/t Pd+Pt+Au,
Drilling into the footwall to the east of the deposit will add to the resource calculation
Footwall PGM mineralization is a new and additional source of PGM mineralization to the resource model
Updated NI 43-101 resource calculation to commence upon the announcement of final assays.
River Valley is the Largest Undeveloped Primary PGM resource in Canada, with 3.9Moz PdEq in Measured Plus Indicated including an additional 1.2Moz PdEq in Inferred
Vancouver, Canada / November 8, 2017 – New Age Metals Inc. (TSX.V: NAM; OTCQB: PAWEF; FSE: P7J.F) is pleased to announce the third and final batch of drill hole results from the 2017 drilling campaign. Drilling was focused on the T3 Zone and Pine Zone as a follow up of the 2015 and 2016 drilling and IP geophysical work at the River Valley PGM Deposit.
Trevor Richardson, President/COO states "The purpose of the 2017 summer/fall exploration program was to focus on the footwall mineralization. The main River Valley PGM Deposit is a contact-style mineralization and this is where the bulk of the resource has previously been identified. The PGM mineralization found in the footwall is newly discovered mineralization and will add to the overall amount of PGM mineralization. This additional mineralization will be reflected in the new resource calculation/updated 43-101 for the River Valley PGM Deposit".
Pine Zone Footwall Discovery Continues to Provide Positive Results
Present drilling into the footwall of the Dana North Zone area of the River Valley PGM Deposit has defined continuous PGM mineralization. To date PGM mineralization has been extended approximately 140 m eastward of the present known PGM mineralization. Past resource calculations of the Dana North Zone have been determined to be 24 million tonnes at 1.5 g/t PdEq. The recent footwall drilling will add to the resource calculation. Hole PZ-17-08 (figure 2) that is being reported in this release was drilled approximately 40 m to the east of the contact mineralization. It yielded 14 metres of 2.01 g/t Pd+Pt+Au and included 4 metres of 2.09 Pd+Pt+Au.
Review of the present drilling and past work is ongoing and will be used to generate a program of additional drilling for the T3 and Pine Zone in 2018. The new exploration model of footwall mineralization has yet to be tested further south of T3, between T3 and T9 (figure 1), and these targets equate to a small portion of the overall 16km of strike length of the main zone. These areas of potential PGM mineralization will be the focus of ongoing and future exploration of the deposit area.
Pine Zone
The Pine Zone was the first of numerous newly discovered PGM zones within the district-scale River Valley PGM Project. The Pine Zone is located east of the main River Valley Deposit in an area previously not known for mineralization. The 2016 drill program (figure 2) confirmed the higher-grade, near-surface PGM discovery made in the 2015 drill program (figure 2) and highlighted the continuity of the PGM mineralization into the footwall. The Pine Zone remains open along strike and at depth.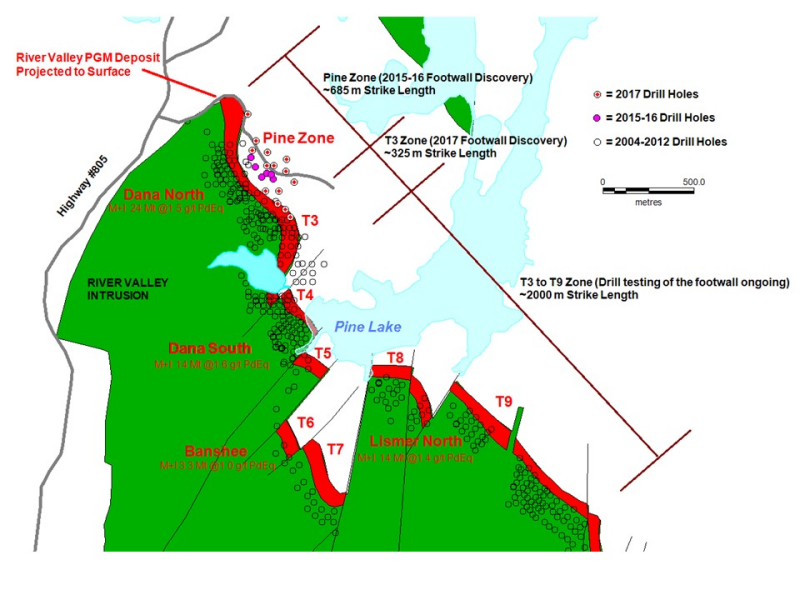 Click Image To View Full Size
Figure 1: Drill Hole Distribution Map
Drill results (Table 1) have confirmed continued PGM mineralization in the Pine Zone (footwall) of the main River Valley PGM Deposit. The area from the Pine Zone to T3 equates to approximately ~1000mofstrike length of new mineralization.


Click Image To View Full Size
Table 1: Drill Results from the Pine Zone
(3E = Au+Pt+Pd, N.S.A. = no significant assays)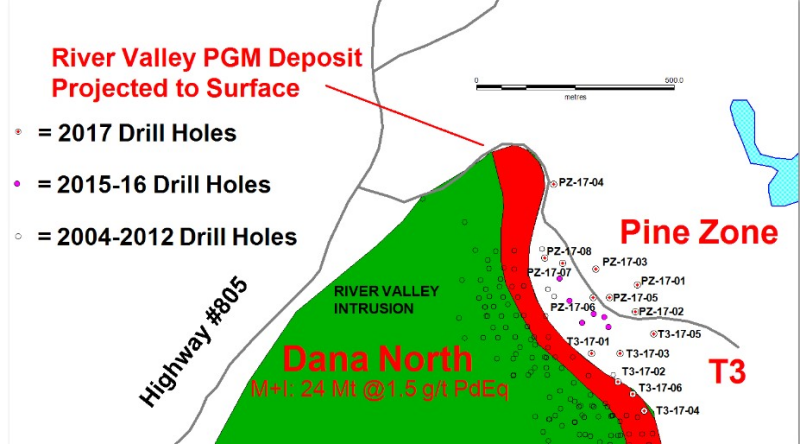 Click Image To View Full Size
Figure 2: T3 Zone and Pine Zone Drill Map
A total of 15 holes were drilled as part of this drill campaign for a total of 4085m (13,402ft) of drilling. Further re-interpretation of the geology, geophysics, structure and PGM mineralization on the project are ongoing with the company's geological and geophysical consultants. Drill widths are considered not true width due to the exploratory nature of the drill campaign.
Assay Procedures and QAQC
The drilling was undertaken by Jacob & Samuel Drilling Ltd. of Sudbury, Ontario under the supervision of a NAM geologist. The drill core samples were sent to the SGS Canada Inc. Laboratory in Lakefield, Ontario for sample preparation and assay analyses. The preparation involved crushing of 3kg of each sample to 90% passing 2mm, and then pulverizing 0.5kg to 85% passing 75um. Palladium, Platinum and Gold were assayed by fire assay with ICP-AES finish (GE-FAI313). Copper, Nickel and 32 additional metals were assayed by two acid digestion and ICP-OES finish (GE-ICP14B). Blanks and blind certified standard samples were submitted at regular intervals for assay with the core samples as part of NAM's quality control program.
Future Activity
WSP Canada (News Release: Sept 7th, 2017) will be conducting the updated resource calculation and model for the River Valley PGM Deposit. This will incorporate the new findings and interpretations. The company plans to initialize a Preliminary Economic Assessment (PEA) Report in the future with WSP Canada. In-house recommendations will be compiled to delineate future work upon completion of the 2017 field program with future work on Pine Zone, T3, and new un-explored footwall targets.
Several 43-101 compliant resource estimates have previously been generated for the deposit through the development phases. The River Valley Deposit present resource, with approximately 3.9 PdEq ounces in Measured Plus Indicated mineral resources and near-surface mineralization covers over 16km of continuous strike length.
ABOUT NAM'S PGM DIVISION
NAM's flagship project is its 100% owned River Valley PGM Project (NAM Website – River Valley Project) in the Sudbury Mining District of Northern Ontario (100 km east of Sudbury, Ontario). Presently the River Valley Project is Canada's largest primary undeveloped PGM deposit with Measured + Indicated resources of 91 million tonnes @ 0.58 g/t Palladium, 0.22 g/t Platinum, 0.04 g/t Gold, at a cut-off grade of 0.8 g/t PdEq for 2,463,000 ounces PGM plus Gold. This equates to 3,942,910 PdEq ounces. The River Valley PGM-Copper-Nickel Sulphide mineralized zones remains open to expansion. The company has recently completed a drill program on the Pine and T3 Zones.
In 2016, the Company acquired the River Valley extension property from Mustang Minerals which added approximately 4 kilometres to the project's mineralized strike length to the southern portion of the intrusion.
ABOUT NAM'S LITHIUM DIVISION
The Company has five pegmatite hosted Lithium Projects in the Winnipeg River Pegmatite Field, located in SE Manitoba. Three of the projects are drill ready. This Pegmatite Field hosts the world class Tanco Pegmatite that has been mined for Tantalum, Cesium and Spodumene (one of the primary Lithium ore minerals) in varying capacities, since 1969. NAM's Lithium Projects are strategically situated in this prolific Pegmatite Field. Presently, NAM is the largest mineral claim holder in the Winnipeg River Pegmatite Field and is seeking JV partners to further develop the company's Li division.
QUALIFIED PERSON
The contents contained herein that relate to Exploration Results or Mineral Resources is based on information compiled, reviewed or prepared by Carey Galeschuk, a consulting geoscientist for New Age Metals. Mr. Galeschuk is the Qualified Person as defined by National Instrument 43-101 and has reviewed and approved the technical content of this news release.
On behalf of the Board of Directors
"Harry Barr"
Harry G. Barr
Chairman and CEO
Neither the TSX Venture Exchange nor its Regulation Services Provider (as that term is defined in the policies of the TSX Venture Exchange) accepts responsibility for the adequacy or accuracy of this release.
Cautionary Note Regarding Forward Looking Statements: This release contains forward-looking statements that involve risks and uncertainties. These statements may differ materially from actual future events or results and are based on current expectations or beliefs. For this purpose, statements of historical fact may be deemed to be forward-looking statements. In addition, forward-looking statements include statements in which the Company uses words such as "continue", "efforts", "expect", "believe", "anticipate", "confident", "intend", "strategy", "plan", "will", "estimate", "project", "goal", "target", "prospects", "optimistic" or similar expressions. These statements by their nature involve risks and uncertainties, and actual results may differ materially depending on a variety of important factors, including, among others, the Company's ability and continuation of efforts to timely and completely make available adequate current public information, additional or different regulatory and legal requirements and restrictions that may be imposed, and other factors as may be discussed in the documents filed by the Company on SEDAR (www.sedar.com), including the most recent reports that identify important risk factors that could cause actual results to differ from those contained in the forward-looking statements. The Company does not undertake any obligation to review or confirm analysts' expectations or estimates or to release publicly any revisions to any forward-looking statements to reflect events or circumstances after the date hereof or to reflect the occurrence of unanticipated events. Investors should not place undue reliance on forward-looking statements.
Tags: #mining, #smallcapstocks, $TSXV, CSE, palladium, Platinum