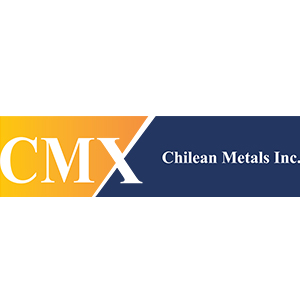 Chilean Metals Inc. ("Chilean Metals," "CMX" or the "Company") (TSX.V:CMX) (OTCBB:CMETF) (SSE:CMX) (MILA:CMX) has arranged a non-brokered private placement of $2,000,000 dollars, with $1,000,000 being done via issuance of 4,000,000 common shares at $0.25 and $1,000,000 in Flow-through Shares issued at $0.40 per share comprising of 2,500,000 shares. The proceeds from the flow-through shares will be used to incur Canadian exploration expenditures that qualify as flow-through mining expenditures (as such terms are defined in the Income Tax Act (Canada)).
The Company intends to pay brokers fees and broker warrants in conjunction with the transaction. Any broker warrants issued on the hard dollar financing will be exercisable at $0.25 per share for 18 months from date of close and any broker warrants issued on the flow-through will be exercisable at $0.40 per share for 18 months. The Financing is subscribed for and is expected to close on April 23, 2021. The closing of the Financing is subject to the approval of the TSXV.
"The additional capital will enable us to commence our initial drill program at our recently acquired option on the NISK Nickel project in James Bay Quebec. Our objective would be to provide an updated 43-101 in late Q3 or early Q4. We are excited about NISK potential to provide a high-grade Nickel Copper Cobalt Palladium project that would be well received in a market where Battery Metal pricing looks better and better!" commented Chilean CEO Terry Lynch.
Funds will also be used in the Company's proposed Plan of Arrangement. As previously announced Chilean Metals will be changing its name to Power Nickel Inc. and will focus its efforts on the exploration and development of the Nisk project. On February 1, 2021 Chilean Metals completed the acquisition of its option to acquire up to 80% of the Nisk project from Critical Elements Lithium Corporation (TSX-V:CRE, OTCQX: CRECF, FSE:F12). These estimates at the Nisk project are of a historic resource and the Company's geologic team has not completed sufficient work to confirm a NI 43-101 compliant resource. Therefore, the estimates cannot, and should not be relied upon.
Table ‑1: Historical Resource Estimate figures for respective confidence categories at the NISK-1 deposit, After RSW Inc 2009: Resource Estimate for the NISK-1 Deposit, Lac Levac Property, Nemiscau, Québec.
Read More: https://agoracom.com/ir/ChileanMetals/forums/discussion/topics/759180-chilean-metals-arranges-2-million-financing-to-explore-nisk-nickel-project/messages/2312269#message
Tags: Battery, Chliean, CMX, cobalt, Coper, EV, gold, GoldenTriangle, metals, nickel, Nisk, Platinum Group Metals (PTM.T)