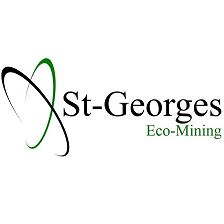 St Georges is advancing 2 projects in Quebec focused on Batttery Metals ( Nickel, Cobalt, Palladium). SX also owns all the active mineral exploration licenses in Iceland with a focus on Gold & Geothermal power, has 19M in cash & investments ( Iconic, Zeus ThreeD, Altair Int. ) and recently created a subsidiary focused solely on the recycling of EV batteries to recover valuable elements. It's called EVSX.
It is no wonder insiders own close to 17%
It has everything to do with metals. SX is embarking on a very large program that is going to have them drilling for Battery & Platinum Group Metals as they search Quebec for an economic discovery. The Julie Nickel project is going to be drilled this year and probably into next, supplying the market and investors with steady stream of information as they track down a discovery. The Manicouagan Palladium project, also in Quebec, will see enough drilling to develop a Maiden NI 43-101 resource.
St. George Eco Mining (CSE: SX) (OTC: SXOOF)) Interim President & CEO, Herb Duerr sits down to discusses 2021 exploration and its importance to shareholders.