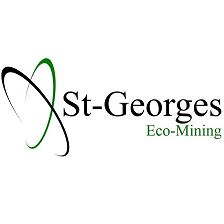 St-Georges Eco-Mining Corp. (CNSX:SX.CN)(OTC:SXOOF) (FSE:85G1) is pleased to disclose that it has entered a binding term sheet to secure the site and building for its proposed battery recycling plant in the deep seaport of Baie-Comeau on the Québec North Shore.
The parties will have 30 days to finalize and execute a long-form agreement conditional on the positive outcome of the feasibility study already underway. Part of the binding agreement concerns the access to the engineering expertise that will allow the Company to have trained professionals working in the facilities from day one of operations planned for later this year.
Important milestone reached allowing equipment vendors to share information with the newly secured engineering team to accelerate the design of the Baie-Comeau proposed electric vehicle, or EV, battery recycling plant with a target phase 1 production capability of 10,000 annual metric tonnes.
The agreement, a long-term lease with an option to buy the targeted plant, was executed on April 16, 2021, and calls for a long-form agreement to be signed within 30 days. Additionally, a long-form engineering and technical services agreement, with the option to acquire the engineering firm, Roberge Industries Inc., will be included in the final agreement.
St-Georges will design the battery recycling plant to be modular and preassembled to reduce construction and installation costs, timelines, and other challenges. The approach is to have a universal battery recycling plant that can use the procedures for process, safety, and maintenance anywhere in the world, including maintenance management systems with a technology allowing real-time auditing and the generation of tradeable carbon credits as well as machine learning management systems allowing real-time optimization of the process as well as the output based on market needs.
Read More: https://agoracom.com/ir/St-GeorgesEco-Mining/forums/discussion/topics/759273-st-georges-secures-future-ev-batteries-recycling-plant-engineering-expertise/messages/2312527#message