Agoracom Blog Home
Posts Tagged '#Zacatecas'
Posted by
at 3:16 PM on Tuesday, December 10th, 2019

SPONSOR: Advance Gold AAX.v – Advance Gold controls 100% interest in the Tabasquena Silver Mine in Zacatecas, Mexico. A cluster of 30 Epithermal veins have been discovered, with recent emphasis on exploring a large anomaly to drill. Advance also owns 13.5% of the Kakamega JV attached to Barrick Takeover Offer for Acacia Mining. Click Here For More Info
Opportunities
2019 is on track to be a 50-year high in central banks' net gold purchases. Bloomberg Intelligence reports that central banks have been absorbing about 20 percent of global gold mine supply. Based on the gold-to-silver ratio, it looks like silver might have more upside if demand for safe haven assets rises. Bloomberg's Eddie van der Walt writes that the gold-silver ratio has dropped to 86 from 93 in July and that means silver has outperformed on the back of gold's gains. UBS analyst Giovanni Staunovo is bullish on palladium and platinum. Staunovo wrote in a December 5 report that palladium will likely enter its ninth straight year of market deficit in 2020 and could climb above $2,000 an ounce. Even as platinum is set to enter a surplus, its price could be driven by gold. "As platinum is highly correlated to gold, our bullish view for gold should mean higher platinum prices, which we expect to trade at around $1,000 an ounce next year."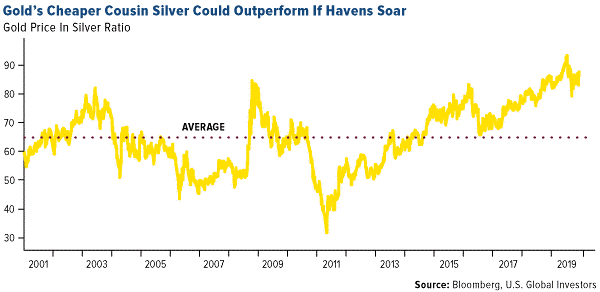 Zijin Mining Group Co. has agreed to buy Continental Gold in a rare all-cash deal worth C$1.37 billion – the second big takeover in a few weeks of a junior Canadian gold miner. Bloomberg reports the offer reflects a 29 percent premium to the Continental Gold share price from the past 20 days and that major shareholder Newmont Goldcorp was supportive of the deal. In hostile M&A news, Centamin Plc rejected Endeavour Mining Corp.'s $1.9 billion takeover offer saying that it undervalues its assets, reports Bloomberg News. Centamin has been a takeover candidate since the size of its Egyptian mine was discovered at the start of the decade, though the company has faced many operational setbacks.
Kinross Gold has been busy raising cash. Kinross announced this week that it has agreed to sell its remaining shares of Lundin Gold for C$150 million to Newcrest Mining and the Lundin Family Trust. Kinross earlier announced that it has sold its royalty portfolio to Maverix Metals for $74 million.
Threats
ABN Amro strategist Georgette Boele says they see gold weakening in the coming weeks and months with a price average of $1,400 an ounce. However, they do expect prices to increase to $1,600 by December of 2020. Before this happens, extreme net-long positioning would clear u p because "these positions currently hang over the market and prevent prices from moving substantially higher."
Another sign of a weakening economy was released last week. The ISM manufacturing PMI unexpectedly declined to 48.1 in November, below the median forecast of 49.2. The reading remains below the 50 level that indicates activity is shrinking.
Bloomberg's Enda Curran writes that cheap borrowing costs have sent global debt to another record – $250 trillion of government, corporate and household debt. This level is almost three times global economic output and policymakers are now grappling with how to keep economies afloat – with more debt? According to Cornerstone Macro's head of technical analysis Carter Worth, his S&P 500 chart signals a 5 to 8 percent decline in the coming months. Bloomberg reports that the S&P 500 fell 1.4 percent on Tuesday, pushing it below an upward trend line established in October.
SOURCE: https://www.gold-eagle.com/article/50-year-high-central-bank-gold-purchases