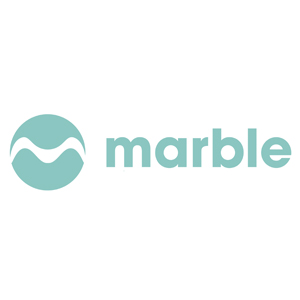 (MRBL: CSE) (MRBLF: OTC) (2V0: FSE)
www.mymarble.ca
Why Marble?
Revolutionary fintech company utilizing the power of AI technology to help Canadians manage debt, build credit and budget.
Provides users:

Expert budgeting insights
Consumer proposal-exiting guidance
AI-powered credit boosting intelligence
Financial literacy

Robust B2B and B2C offerings.
A trusted fintech provider for businesses to maximize their customers credit profile.
Servicing a previously underserved subprime Canadian market
Strong Insiders/Management Ownership: 35%
What Exactly Does Marble Do?
'MyMarble' offers very specific, personalized financial recommendations about when to pay bills, how to prioritize debt management decisions and offers, tracks and highlights personalized data insights.
'MyMarble' through its suite of products offers innovative structured credit product solutions:
The MyMarble Ecosystem obtains leads from a number of tier one Canadian fintech companies which are funnelled accordingly due to a detailed needs analysis.
Did You Know 12 Million Canadians Are Below A Prime Credit Rating?
According to MNP (October 2020) , almost 50% of Canadians are living paycheque to paycheque and based on statistics from Statistics Canada's Household Sector Credit Market Summary (June 2020), for every dollar of disposable income, Canadians carry a $1.77 of debt. Additionally, Canada is a credit-based economy and financial literacy and good credit score is a major determinant to Financial Inclusion.
What Problem Does That Pose To Individuals Seeking Credit?
The Marble Model
How Marble Acquires and Converts Customers
Benefits of This World Class, AI-Powered Platform:
Expert AI Insights and Real-Time Recommendations

Comprehensive monthly reporting provides expert insights to guide the best course of action to manage budgets effectively

Data-Driven Credit Score Improvement Solution

Marble's Score-Up AI insights suggests steps which will make the biggest positive impact on credit scores using industry-leading monitoring and point deduction technology.
In a recent Personal Finance Sentiments Survey conducted by Marble, approximately 70% of the respondents commented that they were embarrassed by their credit score, proving a willingness to improve their credit to an acceptable mainstream banking level.
In addition, a similar number of the same respondents identified having over $100 in disposable income each month, confirming Score-Up Lite's affordability to people that could benefit from it.

Specialist Curated Financial Literacy Platform

The company's Maestro Financial Literacy education platform has been designed and developed by personal finance experts with decades of experience within the industry.

Sustainable Consumer Proposal Exit solution

One of the only companies in Canada that specializes in exiting consumer proposals in a safe, fair and ethical way.
What Does The Company's Financial Future Look Like?