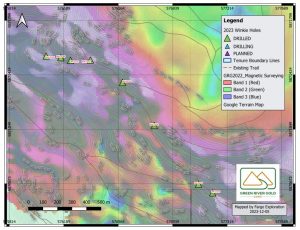 Introduction:
In the heart of British Columbia's Cariboo Mining District, Green River Gold Corp. (CSE: CCR) (OTC Pink: CCRRF) is making waves with a groundbreaking announcement that positions the company as a key player in the mining industry. The recently received assay results from the Quesnel Nickel Project mark a significant milestone in Green River's pursuit of mineral wealth.
Background and Context:
Green River Gold's journey is rooted in over 50 drill holes, covering almost 10 kilometers along the Deep Purple magnetic anomaly. These holes consistently reveal nickel, magnesium, cobalt, and chromium starting from the surface of the bedrock. The company's commitment to exploration and resource development has laid a robust foundation for success in the Cariboo Mining District.
Key Highlights and Advantages:
The assay results from drill holes WK-23-06, WK-23-07, and WK-23-08 showcase an average nickel grade of 0.18% and an impressive magnesium grade exceeding 21%. What sets Green River Gold apart is the consistency in results, mirroring those from previous years. The upcoming 6,000-meter NQ drill program and the ongoing exploration signify a strategic push toward development, affirming the company's commitment to unlocking the potential of the Quesnel Nickel Project.
Potential Impact and Significance:
The Quesnel Nickel Project's immense upside potential is highlighted by Kyle Townsend, Mine Manager for Green River. The continuous mineralization across all 50 consecutive drill holes underscores the project's promising prospects. As Green River Gold embarks on a new phase of drilling, the potential impact on the company, the industry, and the broader market is a testament to the strategic importance of this discovery.
Expert Opinions and Analysis:
Experts echo the sentiment of optimism surrounding Green River Gold. Perry Little, President and CEO, emphasizes the significance of Craig Brekkas joining the Board, bringing over 30 years of experience in agriculture markets. His expertise adds a new perspective as the company looks beyond exploration towards development, including the extraction of nickel, talc, and other minerals.
Challenges and Considerations:
While Green River Gold enjoys a wave of success, challenges such as awaiting permits for the 6,000-meter NQ drill program exist. The company's transparency in addressing challenges and outlining strategies to overcome them reflects a balanced and proactive approach.
Conclusion:
Green River Gold's assay results reveal more than minerals; they unveil a company poised for prosperity in the mining industry. The consistency in findings, the strategic addition to the Board, and the ambitious drilling program all contribute to a narrative of growth and potential. As Green River Gold continues to carve its path in the Cariboo Mining District, investors and the business community are invited to witness and engage in a journey marked by discovery, innovation, and success.
View original release: https://www.newsfilecorp.com/release/190032